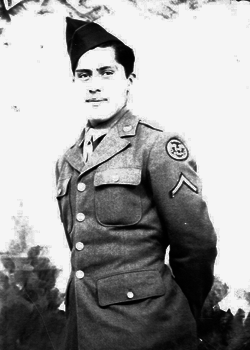 Cipriano C. Mongaraz
Biography: Cipriano C. Mongaraz was born on September 25, 1924, in East Chicago. He was the son of Jose Mongaraz and Margarita Cortez and attended local schools through the grammar level. He later worked for the Elgin, Juliet and Eastern Railroad repairing roadbeds and rails.
On June 20, 1942, he married the former Alexandra Lira in Crown Point, Indiana. Alexandra was born in Topeka, Kansas, and was the daughter of Manuel Lira and Pabla Sanchez.
Service: Cipriano entered the service on April 5, 1943, at Fort Benjamin Harrison, Indiana, and was initially assigned to Company C of the 816th Tank Destroyer Battalion. The unit trained at a number of bases including Camp Swift, Texas. His military specialty was light truck driver and he also qualified as a Marksman with the rifle. The 816th was disbanded on February 20, 1945, while still in the U.S. Its members were then sent to other units as well as into the personnel replacement system.
Cipriano shipped out on February 24th, landing in the European Theater of Operations on March 3rd. He was placed in the replacement system for a short period in April of 1943, probably being assigned to Company C of the 644th Tank Destroyer Battalion soon thereafter. The 644th crossed the Rhine river at Remagen and supported the reduction of the Ruhr Pocket in April. They then swung eastward to the Elbe River and rolled toward the Baltic coast with the 82d Airborne Division, stopping in Schwerin.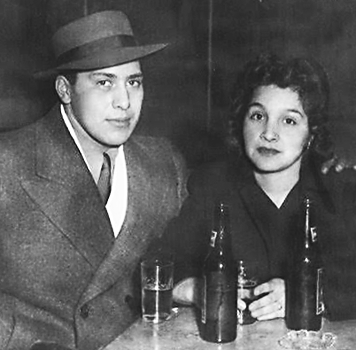 Cipriano received credit for both the Ardennes and Central Europe campaigns. He had been wounded so he received a Purple Heart as well as the EAME, the American Campaign, WWII Victory and the Good Conduct Medals.
He shipped home on November 22nd, 1945, arriving back in the U.S. on December 7th. He left the service on December 14th, at Camp Grant, Illinois, at the rank of Private First Class
Cipriano returned home to Alexandra and found work as a steelworker and crane-man at the Inland Steel Company where he worked for 43 years. The family lived in Indiana Harbor until 1956, when they moved to Miller, Indiana. The couple had six children, Manuel, Cipriano Jr., Alice, Daniel, Thomas and Arthur. Cipriano was a member of the American Legion, the VFW and the Izaak Walton League, which is a Nature Park and Conservation Club.
Alexandra passed away in 1996, and Cipriano then married the former Teresa Cortez on September 13, 1997. Cipriano passed away on August 27, 2002, and was buried in the McCool Cemetery, in Portage, Indiana. I want to thank Cipriano's grandaughter, Lisa, for providing the information and photos for this triibute.