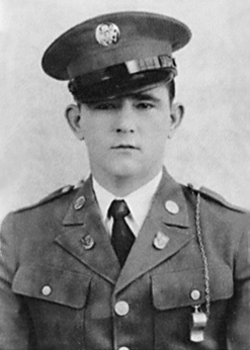 Marvin E. Mikles
Biography: Marvin Everett Mikles was born on October 2, 1912, in Magazine, Arkansas. He was the son of Boodie Jacob Mikles and Hazel Dell Kern and attended local schools, graduating from Magazine High School. He continued his education for another two years at Oklahoma State University in Stillwater, OK. He worked on the family farm and as a butcher as well as joining the Arkansas National Guard prior to the war.
Around 1940, Marvin married the former Ina Louise Spicer, who was born in Paris, Arkansas, and was the daughter of Don Spicer and Minnie Lloyd.
Service Time: Marvin entered the service on January 6, 1941, receiving training at Fort Sill, OK, and Brownwood, Texas. In 1942, Marvin and Ina had their first child, James.
Marvin was sent to Camp Hood, TX, where he attended Officer Candidate School, graduating in class number 22, on March 18, 1943. Unlike many of the graduates who went on to lead tank destroyer units, Marvin was sent to Jump School and was ultimately assigned to the 101st Airborne, which is well-known for their involvement in the D-Day operations as well as Operation Market Garden. The unit received the Presidential Unit Citation for their action to hold Bastogne during the Battle of the Bulge.
The 101st Airborne received credit for the campaigns of Normandy, Rhineland, Ardennes-Alsace and Central Europe. Marvin received the Bronze Star, two Purple hearts, the WWII Victory Medal, American Defense Medal, American Theater Medal, and the Occupation Medal for Germany. He was also authorized to wear the Belgian Fourragere. After the war had ended, Marvin was sent to Japan as part of the 1st Occupational Troops.
Marvin remained in the Army holding various positions at a number of posts, including Fort. Bragg, North Carolina, Fort Campbell, Kentucky, Korea, Augsburg, Munich and Baumholder, Germany. In about 1957, Marvin was stationed at Fort Hood, TX, where he would eventually retired in 1961. Beside his WWII decorations, during his 20 year career, he also received the Korean Service Medal, Commendation Ribbon W-Medal Pendulum, Glider Badge, Master Parachutist Badge and National Defense Medal. He retired at the rank of Major.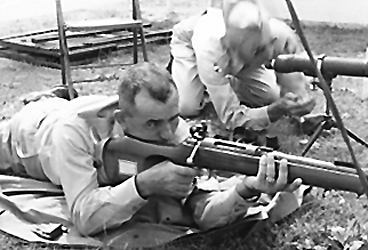 The photo at left shows Marvin in 1960, at the now Fort Hood firing range. Even though this was about one year before his retirement, he won the competition. In the photo below, you can see the award ceremony with Marvin on left, the battalion commander center and the Fort's Brigadier General presenting the trophy.
In 1950, the couple welcomed their second son, Don. Marvin and his wife also operated the Jack and Jill Pre-School in Killeen and Copperas Cove, TX. In his spare time, he enjoyed hunting, fishing and camping and was a 32nd Degree Mason.
Marvin passed away in September of 1981, and was buried in the Booneville Cemetery in Booneville, Arkansas. I want to thank Marvin's son, Don, for providing the information and photos for this tribute.