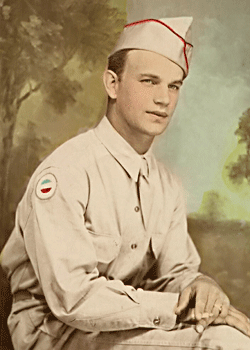 Victor J. Murauskos
Biography: Victor Joseph Murauskos was born on August 7, 1920, in Harrison, New Jersey. He is the son on Joseph and Anna Murauskos and attended Union Beach Elementary and Keyport High School through the 9th grade. He later received additional training in Spanish, bookkeeping and typing at Eastern District High School in Brooklyn, New York. He found work with the P.R. Behring Company as a clerk, handling the documentation related to shipping and receiving of freight coming through foreign ports.
Service Time: Victor enlisted on July 9, 1942, at Fort Jay, Governors Island, NY. He entered active service on the 23rd and after his basic training at Camp Gordon, Georgia, he was assigned to Company C of the 692nd Tank Destroyer Battalion. He became the company clerk due to his past work experience and was even asked to be the Court-Martial Clerk. After a few months, Victor requested field service but until a replacement could be found, his request was denied. Eventually another clerk transferred in and Victor was assigned to a TD crew.
Victor and his crew would receive training at a variety of facilities including Camp Bowie and Camp Hood, Texas, Camp Phillips, Kansas, Fort Campbell, Kentucky and finally Camp Upton, New York. Victor had met Leonard Trupiano while they were in basic training and a close friendship was formed. While the unit was stationed at Camp Campbell, Leonard who had some artistic talent, took time to do a pencil drawing portrait of Victor.
On February 13, 1944, while on leave, Victor married Mary, who he had met prior to the war in 1939, when friends invited him to a social club dance. At the time, she was only 16 and he was 19. Mary had been born in Brooklyn, NY.
C Company shipped out from the New York port on September 12, 1944, aboard the HMS Scythia and arrived in England on the 23rd. They landed at Cherbourg, France, two days later. They had originally training with self-propelled TDs but had been converted to the towed 3″ gun earlier that year in March. The men were trucked to an apple orchard in Valogne, Fance, which was being used as a staging area, to await the arrival of their equipment.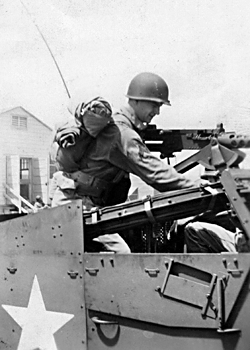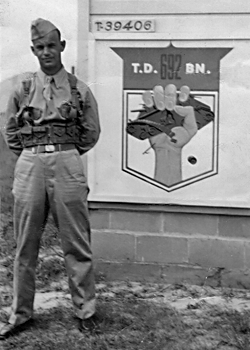 The 692nd entered the line near Wustwezel, Belgium, about October 28th and fought along the Siegfried Line in the vicinity of Stolberg beginning in November. They occupied defensive positions along the Roer River during the Battle of the Bulge. On December 16th, Victor's platoon took Schophoven, Germany and moved into a concrete building for cover. The building was used to store potatoes. Victor was assisting Lt. Nicolosi to run radio wires when a mortar shell hit near the men and some of them were injured by shrapnel. One of the men was hit in the foot and Victor used a tourniquet to stop the bleeding. Mario Nunez was hit in the back and when Victor stood up, he realized he was bleeding also. All the injured were all taken to a field hospital for treatment. Victor would receive a Purple Heart for his wounds.
The unit converted to the M36 tank destroyer in February, 1945, and they supported the drive from the Roer to the Rhine River and helped capture Cologne, Germany, in late February and early March. Victor's TD ended up in a river when a mine damaged the bridge they were crossing. Winches were needed to pull them out. Victor was promoted to Sergeant and put in charge of two TDs.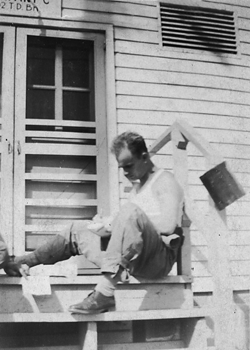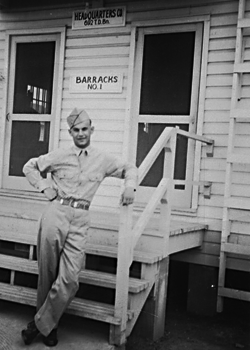 On March 3rd, a battalion of the 414th Infantry Regiment was having difficulty overcoming enemy anti-tank, mortar and small arms fire while trying to seize an important enemy town. Victor and his platoon of TDs volunteered to attempt to neutralized the enemy by traveling to a high ground position. He knew that they would be exposed and that the route would be extremely dangerous. Victor and his men reached high ground and came under fire but they were able to eliminate the enemy emplacements. For this action, he received a Certificate of Merit.
After Lt. Ben L. Nicolosi was killed, Victor was promoted to Staff Sergeant and took control of the platoon. They cleared more Siegfried Line fortifications and crossed the Rhine at Worms on March 31st, racing across Germany in April and participating in the capture of Furth before advancing to Munich by April 30th.
On April 10, Victor was in the lead TD supporting infantry troops in an attack on Schweinfurt, Germany. He fired 52 rounds at various enemy positions even though his TD was under constant Panzerfaust and small arms fire. His actions dramatically influenced the positive outcome for the allied forces. For these actions, he was awarded the Bronze Star.
It was only two weeks later, on the 25th, that Victor's platoon was in reserve and a group of allied tanks was forced to retreat under heavy enemy fire. Victor left his TD and crawled to the top of a hill to draw fire away from the tanks and identify the enemy's position. He was able to eliminate one machine gun nest with his rifle and direct TD fire to eliminate a number of enemy positions. For these actions, he was awarded the Silver Star.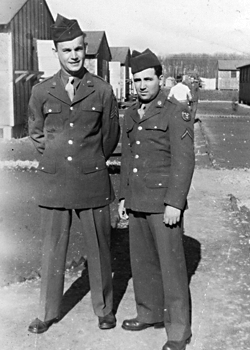 While living in New York, Victor had seen propaganda films, at the Trans Lux Motion Picture Theater, about Hitler's home in Obersalzberg, near Berchtesgaden, Germany. Just before the war ended, he and his platoon were ordered to stay in place. A sign identified that Berchtesgaden was just south of their position. The following is a brief synopsis of what he related to his family. "I took a jeep and asked another soldier to accompany me to drive to Berchtesgaden. At first there were no houses and only trees on both sides of the road. Shortly after we saw railroad tracks on the right side. We followed the railroad tracks and arrived at Berchtesgaden. I asked a boy "Where is Hitler's heim?" The boy said "Nicht Berchtesgaden but Obersalsberg."We drove up to Obersalzberg guided by the young boy and then up to Hitler's home. We walked up the steps to the porch that overlooked the Austrian Alps, It was the same porch featured in the newsreels that I saw in NY. We then entered the house and since they were probably the first U.S. soldiers to enter, we proceeded cautiously, afraid that booby traps had been set. Inside we saw Hitler's meeting room with his desk and large round meeting table with chairs and the large window that looked out onto the porch and the Alps. We also saw a door that led to stairs and another door and steps. We went down and saw hundreds of bottles of whiskey."
Victor shipped home from Le Havre, France, aboard the Liberty Ship, William S. Few. He arrived in Boston on August 25, 1945.
Victor reunited with his wife Mary and the couple made their home in Brooklyn and later Queens, NY. He began working in the garment industry as a dress presser and later as a bus driver and dispatcher for the New York City Transit. The couple had 5 children, 4 girls and 1 boy and in his spare time, he loved going to the beach, swimming, crabbing, fishing and gardening. He especially loved traveling with Mary, to whom he was married for 59 years, until her death in 2009.
A special moment for Victor occurred just a few years ago when, at the age of 91, he was granted a patent for his "Pillow Slides" invention, which is used to assist in putting pillow cases on bed pillows.
I want to thank Victor for his service to this country and wish him long life and good health. I also want to thank his daughter, Eileen, for providing the information and photos for this tribute.