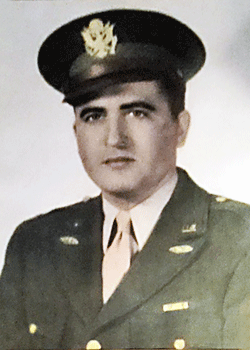 Joseph A. Marcotte, Jr
Biography: Joseph Arthur Marcotte, Jr., "Artie", was born on June 22, 1915, in Ramsey, New Jersey. He was the son of Joseph Marcotte Sr. and Angeline Weeks and the family lived in a house built by the senior Marcotte, who was a professional carpenter. Artie attended school in Ramsey and graduated from high school in 1935. While in school, he played in the band and was on the track team. He enjoyed all outdoor activities and was active in the Boy Scouts. He even learned to fly a bi-plane on his relative's farm-land. Artie continued his education, going to school to become an arborist. His studies eventually took him to Yellowstone National Park for training.
In 1941, Artie married the former Ruth Christman who was born in Dayton, Ohio, and was the daughter of Catherine Christman. The new couple made their home in Ramsey and had one son, Richard, born in December of 1943.
Service Time: Artie entered the service on September 29, 1941, at Fort Dix, New Jersey. It was his desire to serve in the Army Air Corps and it is thought that he actually became an officer in the Air Corps but for some reason was later assigned to the 803rd Tank Destroyer Battalion.
The unit shipped out from the New York port on June 24, 1943, and arrived in England on July 6th. Eleven months later, they landed at Omaha Beach, on June 13, 1944. They were equipped with M10's, and helped capture St. Lô in July. Racing across northern France in August, they passed through Belgium and Holland before reaching the Siegfried Line in September.
The 803rd supported operations north of Aachen in October, with most of the unit attached to the 30th Infantry Division. They fired indirect harassing fire at a variety of targets, including dug-in enemy infantry, an artillery battery and a ferry crossing. Using a crude telephone system they had set up, they were able to take out an enemy Mark V tank. It was that same day, October 12th, that 1st Lt. Joseph A. Marcotte Jr. was killed by sniper fire. He was the only casualty identified for that day.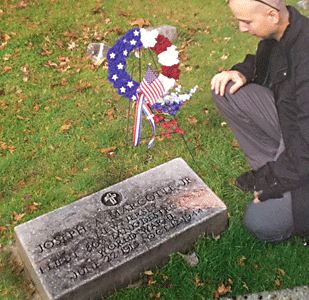 Artie was returned to the U.S. and buried in the Ramapo Reformed Church Cemetery in Mahwah, NJ. He posthumously received the Purple Heart. Some time after the war a soldier, who had been under Artie's command, visited the Marcotte family and related the details of his death. A special thank you to that soldier who took the time to provide some closure for the family.
I want to thank Len Verrelli, and his wife, for their initial research into Artie's service. Len served in Vietnam as a Captain in the USAF. I also want to thank Artie's son, Rich, for providing the photos and information for this tribute. Rich served in Vietnam with the USMC. Shown in the photo of the grave marker is Artie's grandson, John, who tends to his grave regularly. John is also a veteran, having served in the Army.
I want to thank each of you for your service and sacrifices for this country.