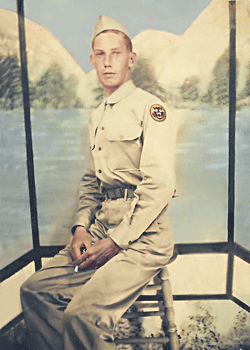 Harold B. McGraw
Biography: Harold Bradford McGraw was born on May 4, 1924, in Enoch, West Virginia. He was the son of Robert McGraw and Viola Workman and had two sisters and five brothers. Harold worked as a carpenter prior to the war.
Service Time: Very little is know about Harold's service but we do know that he was trained as a tank destroyer soldier as evidenced by the colorized main photo in this article and the tank destroyer patch he is wearing. Many times these photos were taken just prior to the men being shipped overseas. It is a long standing thought that Harold served in the Pacific due to references he made during his nightmares. He left the service at the rank of Technician 5th Grade.
After being discharged, Harold lived in Detroit, Michigan, for some period and later Bidwell, Ohio. He never married and had no children but did go back to his former occupation as a carpenter. In his spare time, he enjoyed farming and gardening. He was also a member of the VFW. He passed away in August of 1979, and was buried in the McGraw Family Cemetery, Clay County, Enoch, West Virginia.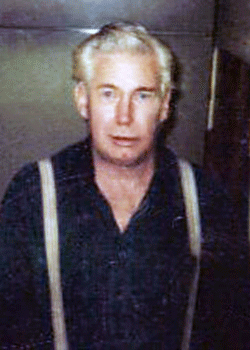 I want to thank Patrick Tilley for providing the photos and information for his wife's uncle Harold. It is our hope that additional information can be found to link Harold to the unit and other men he served with.
In addition to Harold's service in the Army, two of his brothers, Norval and Glenville, both served in the Navy. Glenville served aboard the USS Enterprise and received burns when a Kamikaze aircraft crashed into the ship.