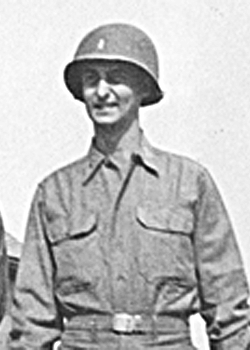 Eugene D. Mayers
Biography: Eugene David Mayers was born on July 30, 1915, in New York City, New York. He was the son of Sylvester and Estelle Mayers and attended local schools in the New Rochelle, NY, area. He continued his education at Pierson College, which is a residential college at Yale, and graduated Cum Laude in 1936. For the next year, he worked for his father who was an importer of pearls and precious stones. He then went on to Yale Law, graduating in 1940, and became a member of the New York State Bar Association.
Eugene used his education at the National Bureau of Economic Research which was one of the Washington "Alphabet" Agencies tasked with working on price controls and wages.
Service Time: Eugene was drafted and entered the Army on November 14, 1941, at Camp Upton, NY. After his preliminary training, he was sent to Fort Bragg, North Carolina, for a 13-week basic course for service in the artillery. He was fondly nicknamed "The Judge" due to his credentials as a lawyer and was soon made the acting Corporal. From May through June of 1942, he was assigned to OCS (Officer Candidate Training) at Fort Sill, Oklahoma, finally graduating as a 2nd Lieutenant. His class was #23, which included approximately 500 men.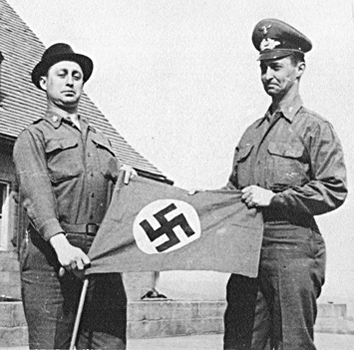 At some point, he was assigned to the 824th Tank Destroyer Battalion and trained with them in North Carolina, Arkansas, Oklahoma, Louisiana and Texas. He shipped out with them from the New York port on October 14, 1944, arriving at Marseilles, France, on October 29th. The unit was deployed near Sarrebourg on November 27th and fought around Bitche and against the Siegfried Line in December.
In the photo at left, Eugene is shown, at the right, with his brother Albert, who was a doctor and Major in the Medical Corps. The photo was taken in Germany, somewhere along the Rhine River, in 1945.
The 824th battled the German Nordwind offensive in January, 1945, and converted to M18's in March. They crossed the Rhine on the last day of the month and joined the stiff fight at Heilbronn on April 8th. They advanced to the Austrian border by month's end and cleared the Bavarian mountains, taking Innsbruck in early May. The 824th received credit for campaigns of the Rhineland, Ardennes-Alsace and Central Europe. Eugene left the service at the rank of Captain.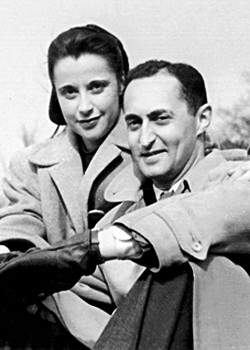 Eugene returned home and went to work as a lawyer for the Navy Department, working on contracts for the building and buying of ships. He continued his education, utilizing the G.I. Bill, studying both philosophy and theology in a program run by both the Union Theological Seminary and Columbia University. He eventually received his Ph D., in 1956. On December 30, 1950, he married the former Odette Julia Marguerite Gilchriest who was born in Springfield, Massachusetts, and was the daughter of Dr. Bernard Gilchriest and Odette Bastogne. The couple had four children, David, born in 1951, Marilyn in 1954, Judith in 1957 and Peter in 1960. During this time period, Eugene held an instructorship at Carleton, which is a liberal arts college in Northfield, Minnesota.
Eugene didn't completely leave the military since he still served in the Army Reserves. He was called back to active duty during the Korean War in 1951 and 1952, and eventually attained the rank of Lieutenant Colonel in the 1960s. In his spare time he enjoyed drawing and painting as well as many outdoor activities including fishing, camping, tennis, swimming and gardening. He was also a true fan of vigorous exercise and a member of both philosophical and theological associations.
Eugene passed away on February 24, 2007, and was buried in the Mountain View Cemetery in Oakland, California. I want to thank Eugene's son, David, for providing the information and photographs for this tribute. Additionally, David has written a detailed biographical essay about his father based on the letters he sent home during his military service. The document is provided below and adds many additional details about his life in and outside of the service. The essay was written for David's son, and his siblings, but he has generously allowed us to include it here.
Letters to Home in World War Two: Lieutenant Eugene David Mayers