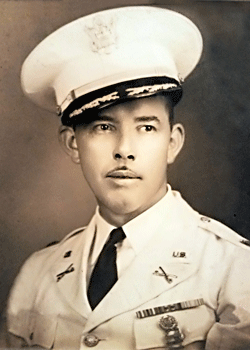 Albert J. McCurdy Jr.
Biography: Albert Joseph McCurdy was born on April 17, 1898, in Washington D.C. He was the son of Albert Joseph McCurdy Sr. and Eva May Dalrymple.
Service Time: Basically, everything we know about Albert Joseph McCurdy's military career comes from the unit history of the 819th Tank Destroyer Battalion where he was assigned from March, 1943 to November, 1944.
The unit moved to Camp Hood, Texas, from Camp Bowie, TX and was stationed at Shell Camp #1. The Battalion Commanding Officer, Lt. Col. Pughe, was relieved and the battalion moved to Camp Hood proper where Major Albert J. McCurdy joined them and assumed command. The unit history states that Major McCurdy had served as a motorcycle dispatch rider in WWI. A photo from his early years in the military shows him wearing the uniform of the 79th Infantry Division at the rank of Private First Class. The 79th saw extensive combat in the Meuse-Argonne Offensive where it earned the name of "Cross of Lorraine" for their defense of France.
The history identifies that he held the permanent rank of Technical Sergeant in the Regular Army. When he joined the 819th, he was quickly promoted to Lieutenant Colonel to match his new position. He had previously served in the cavalry under George S. Patton and practiced some of his leadership characteristics, such as running the outfit with a tight rein. The photo below is Pfc. McCurdy in 79th Infantry Division Uniform.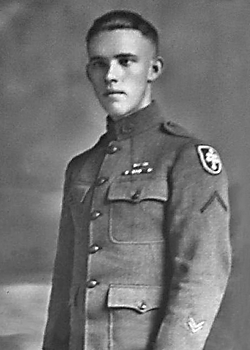 While at Camp Hood, the unit was re-equipped as a towed battalion and given 3″ towed guns. This required additional training, which was partly accomplished when they moved to the Desert Training Center on July 25, 1943. They continued training there for 7 months until they received word to prepare for overseas duty. The 819th moved to Camp Stoneman in California and shipped out on March 15, 1944, aboard the USS George O. Squier. They arrived in Hawaii on March 24th and were quartered at a variety of locations according to their assignments. HQ Company stayed within the town of Hilo. Throughout their time in Hawaii, the unit continued to train, conducting marches and refresher exercises of all kinds along with providing security and performing patrol duties.
On July 12th, Lt. Col. McCurdy left the battalion to attend school at Camp Hood and Major Wooster assumed command. Maj. Wooster then left to act as an observer in Palau, Philippines, so Maj. John P. McFarland took command. On November 17th, the battalion was re-organized again and re-equipped with the M10 tank Destroyer, which required changes in tactics and training for all members of the unit.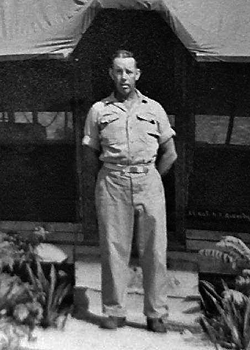 Lt. Col. McCurdy returned to the unit on November 24th, and they shipped to Honolulu aboard the USS Eastland, on January 12, 1945, arriving the next day. McCurdy and a few of his officers were sent to Peleliu as an advance party and the rest of the unit sailed four days later on the 17th. They stopped to refuel in the Marshall Islands and soon proceeded to Peleliu, in the Palau Islands, arriving on February 1st. The unit took up defensive duties on Peleliu and Angaur. It was noted that McCurdy had a tough job keeping the troops morale up while on Palau, which was so far from home and everything else. The final mention of him in the unit history identifies that he was stationed in Europe after the war and he was promoted to the rank of Colonel. The photo at left is Lt. Col. McCurdy on Peleliu in the Western Pacific.
Apart from his military career, Albert married twice. His first relationship brought two daughters, Pat and Connie. The second marriage was to the former Mabel Louise Thomas who was born in McMinnville, Tennessee, and was the daughter of Alvin Thomas and Ara Kidwell. The new couple made their residence in St. Petersburg, Florida, and hade four more daughters, Louise, born in 1944, Alberta in 1945, Eva in 1946, and Mary in 1949. In his spare time, Albert enjoyed making furniture.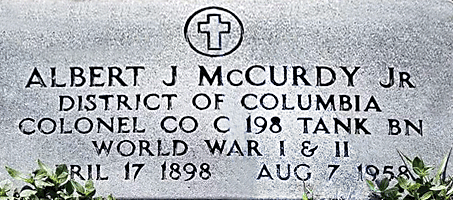 Albert passed away on August 7, 1958, and was buried in the Royal Palms Cemetery in St. Petersburg, Florida. I want to thank Albert's daughter, Mary, for providing the information and photos of her father used in this tribute.