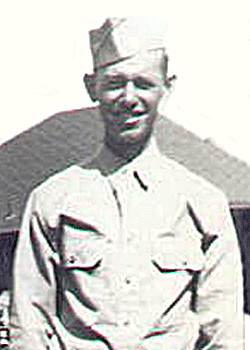 Norman Miller
Biography: Norman Miller was born on July 17, 1910, in Absecon, New Jersey. He was the son of Edward Miller and Amelia Irelan and attended local schools through the grammar level. He worked as a clammer, collecting clams along the Jersey shores.
Service Time: Norman entered the service on April 1, 1942 at Fort Dix, New Jersey. He was assigned to Company B of the 645th Tank Destroyer Battalion. The unit shipped out from the U.S. in late April and arrived in Algeria on May 27, 1943. While in North Africa, they continued their training and made plans for the invasion of Italy.
The unit landed at Paestum, Italy, on September 9th, and participated in the drive up the Italian peninsula. They then shifted to the Anzio beachhead in February, 1944, before withdrawing for more training in June, 1944. Their training was to prepare them to participate in Operation Dragoon, which was the invasion of Southern France. They landed on August 15th and advanced to the Vosges Mountains near Grandvillers by October. Joining the assault on the Siegfried Line in December near Bobenthal, Germany, they fought the German Nordwind offensive in January, 1945.
The 645th converted to the M36 tank destroyer beginning late January and attacked the Siegfried Line again south of Sarreguemines in March, crossing the Rhine at Worms on March 25th. They helped reduce the Nazi stand at Aschaffenburg at month's end and the capture of Nürnberg in mid-April. They finally reached Munich on April 29th. Norman left the service at the rank of Corporal.
Norman returned to New Jersey and made his home in Pleasantville. He went back to his former profession as a clammer. He passed away on February 18, 2000, and was buried in the Absecon Presbyterian Church Cemetery in Absecon, NJ. I want to thank Norman's great-niece, Andrea, for providing the photo and information for this tribute.