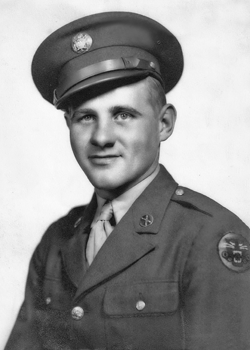 Joseph R. Manz
Biography: Joseph Raymond Manz was born on November 20, 1922, in Pittsburgh, Pennsylvania. He was the son of Joseph Manz and Anna M. Tomasch and attended local schools through the grammar level. He worked as a truck driver prior to the war.
Service Time: Joseph entered the service on March 9, 1942, at Pittsburgh and after his basic training was assigned to the 631st Tank Destroyer Battalion. The unit trained at a number of military facilities including Camp Shelby, Mississippi, where they were in July of 1943, until early in 1944. During that period, they were attached to the 7th TD Group as part of the IX, XIX and XXI Corps. On January 19, 1944, the unit was reassigned to to the 8th TD Group and a month later on February 15, they were assigned to the 21st TD Group.
The 631st was initially trained with self-propelled tank destroyers but was re-organized as a towed battalion equipped with the 3″ towed gun, in December of 1943. They shipped out from the New York port on July 26, 1944, and arrived at Gourock, Scotland on August 5th. They were assigned to rear-area duties in France, Luxembourg and Germany for the rest of the war, as part of the Third Army. The unit received credit for campaigns in Northern France, Rhineland, the Ardennes and Central Europe. Joseph left the service on November 20, 1945, at the rank of Private First Class.
Joseph returned to the U.S. and to Allegheny County, PA. He found work as a tractor trailer driver. He married the former Eileen Hayes, who had been born in Pittsburgh also. The couple would have a son, Dennis. In his spare time, Joseph worked as a mechanic to repair everyone else's trucks.
On December 5, 1967, he was working for the Pittsburgh Trucking Company and was sent to a tragic truck and car accident. The accident claimed the lives of three Purchase Line High School teachers. While at the scene, Joseph became sick and was taken to a hospital, he later died of a heart attack.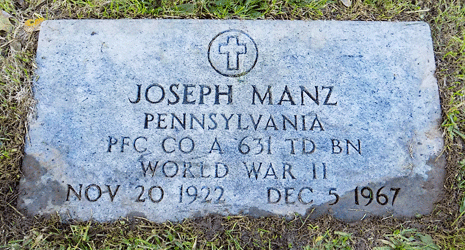 Joseph was buried in the Allegheny Cemetery in Pittsburgh, PA, Section 38, Lot 307, Grave 37. I want to thank Joseph's nephew Lou, for providing the information and main photo. I also want to thank Richard Boyer for providing the grave marker photo.