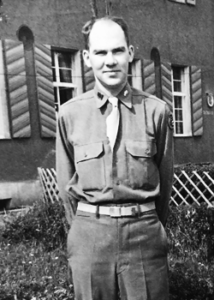 Roy T. McGrann
Biography:  Roy Thomas McGrann was born on February 1, 1913, in McKeesport, Pennsylvania. He was the son of E. Roy McGrann and Louise Winifred McWilliams and graduated from McKeesport High School. He continued his education at Penn State University, in their School of Forestry. While at the school, he took part in the ROTC program and reached the cadet rank of Lieutenant Colonel.
Roy's graduation from college, in 1937, also brought his completion of the ROTC program and his commission as an Army Officer at the rank of 2nd Lieutenant. He became a Reserve Officer and moved into the civilian workforce, working for U.S. Steel, in their National Tube Division as a Metallurgist and Field Service Engineer. He remained with the company until 1941, when he was called to active duty in January 1942.
Service Time:  Roy attended one of the first courses after Pearl Harbor was attacked in early 1942. The course was for Rifle and Heavy Weapons and was held at The Infantry School in Fort Benning, Georgia, from January through March. He was eventually assigned to Company A of the 610th Tank Destroyer Battalion when he joined the unit with the first shipment of officers, on April 24th. Captain Roy T. McGrann later became the unit's S-2 (Intelligence Officer) serving closely with the unit's commanding officer/s within Headquarters Company.
The unit had been activated on April 11, 1942, at Camp Barkley, Texas, as a towed anti-tank gun battalion. They trained within the U.S. at a number of military facilities, including Camp Bowie and Camp Hood, TX, Camp Forrest, Tennessee, at the Tennessee Maneuvers, and Camp Atterbury, Indiana, among others. On January 12, 1944, while on leave from the unit, Roy married the former Lola May Rumsey, who was born in Beaumont, Butler County, Kansas, and was the daughter of George Walker Rumsey and Lela Gay Butts.
The 610th were finally sent to Fort Dix, New Jersey, for final preparations before overseas deployment. Thinking they were headed overseas, they were sent to Camp Kilmer, New York, but they were soon headed back to Fort Dix. They were again sent to Camp Kilmer and this time, on June 3rd, they boarded the Dutch liner, Nieuw Amsterdam, and sailed for the United Kingdom. The unit arrived at Greenock, Scotland, on June 11th and about six weeks later, they boarded transports and landed at Utah Beach, Normandy, France, on July 31st. They were equipped with the 3″ towed anti-tank gun and committed to action on August 10th near Craon, France, participating in the elimination of the Falaise Pocket.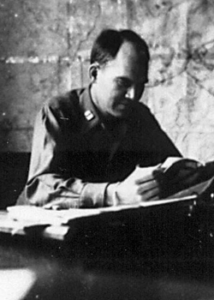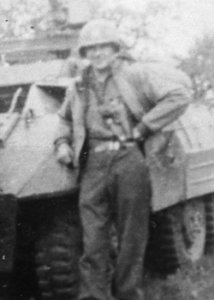 Racing east to the Moselle River by September, they converted to the self-propelled M36 tank destroyer in September–October and were the first TD unit to do so. The 610th helped clear Maginot Line fortifications in November and were then ordered to the Ardennes on December 21st.
They helped to eliminate the Bulge in January, 1945, and battled through the Siegfried Line in February near Brandscheid but were then transferred back south in March, crossing the Rhine River at Worms on March 29th. The unit raced through central and southern Germany in April and reached the vicinity of Munich by month's end. He received credit for each of the unit's campaigns, including Northern France, Rhineland, Ardennes-Alsace and Central Europe.
The 610th took up occupational duties in Nurnberg, Germany, and Roy began the task of compiling the history of the unit into a volume as requested by the commanding officer, Lt. Col. William L. Herold. The promise of the book had been made to the Colonel back when they were stationed at Camp Hood. Roy humbly remarks in the introduction of the book that his:
"selection as the author was not due to any literary prowess which I possess but more logically because I was the one standing nearest when the idea came to the colonel." 
A plan was put in place to have a rough draft of the history for the men to take home with them. It was published in the unit's "Hellcat" newsletter and was distributed while they were still at Nurnberg and thankfully before those going home on points had left. The sudden end of the war before the book was completed required someone to continue the work. Roy was entrusted with the few documents and photos that were available and completed the work, which was printed in 1946 and later distributed to each member of the unit. His faithfulness to this task was evidence of his loyalty to the men he served with and his commanding officer, who sadly had been killed in action, on August 20, 1944. Thanks to the McGrann family, the document described above is available on this website on the 610th's unit page.
After the war, Roy returned to U.S. Steel in Pittsburgh, PA. He and Lola would have two sons, Roy, born in 1950, and Jeremiah in 1952. Roy had left active duty but remained in the Army Reserves until 1953, when he retired at the rank of Major. He left Pittsburgh in 1954, when he was transferred by U.S. Steel to Tulsa, Oklahoma, and became "Point Man" for their National Tube Division. While there, he was tasked with solving problems in the oil fields from the Rockies to the Appalachians. His metallurgical expertise in designing drill strings and casings along with his experience in corrosion analysis was widely respected and earned him a commendation for his work with Loffland Brothers in drilling. In 1973, the company had completed the deepest well in the world in Beckham County, OK. His problem solving tasks for the company took him around the world, including such destinations as Italy and New Zealand.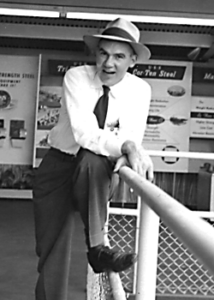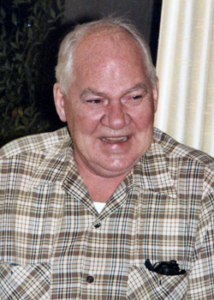 In his spare time, he had a deep love and knowledge of history, especially military history, the Civil War and WWII, as well as Western and Native American history. He was an avid opera fan, listening religiously to the weekly Metropolitan Opera radio broadcast. He studied science and enjoyed poetry but wasn't just an intellectual. He worked with his hands also and was skilled in leatherwork and bookbinding. As a carpenter and woodworker, he built his own house in Pennsylvania from scratch. He also remodeled his home in Tulsa, converting the second floor into two bedrooms and a bathroom. He was also a gunsmith who sporterized several WWII rifles. He carved his own rifle stocks and pistol grips. He used his forestry education when taking care of the trees in his yard.
Roy was a supporter of the American Indian College Fund and both Cascia Hall, Preparatory School and Holy Family Cathedral, located in Tulsa, OK. He was also a member of the VFW, National Rifle Association and Penn State Alumni Association.
He passed away on August 20, 2006, and was buried in the Memorial Park Cemetery, Tulsa, OK. I want to thank Roy's son, Roy, for providing the information and photos used in this tribute.