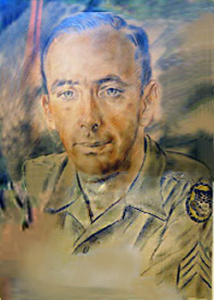 Herman J. Mischke
Biography: Herman J. Mischke was born on September 26, 1911, in Stevensville, Michigan. He was the son of Johann Albert Mischke and Amanda Pauline Berk and attended local schools through the grammar level.
His enlistment record indicates that prior to the war, he worked at a semiskilled occupation in the fabrication of metal products.
Service Time:  Herman entered the Army on January 4, 1943, at Kalamazoo, MI. He would have been sent for basic training and then assigned to a unit. We do not know the specifics of his military service but we do know from the artwork to the left that he was assigned to a tank destroyer unit, which was eventually sent overseas and served in the either the Mediterranean and/or the European theaters.
We believe the artwork shown above was done for Herman while he was still overseas and probably on occupational duty.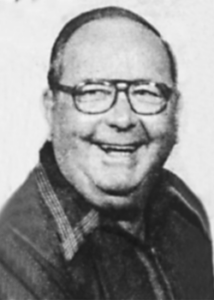 A piece of memorabilia brought home by Herman prominently shows the 1st Infantry Division patch and leads us to believe that his particular tank destroyer unit was assigned to the 1st Infantry Division for at least some portion of time overseas. The VII Corp patch is also shown and we know that they were assigned to the 1st on at least two occasions. Herman left the service at the rank of Sergeant.
Herman returned to Michigan and on February 16, 1946, in St. Joseph, MI, he married the former Edith Ann Gaisford, who was born in Minonk, Illinois and was the daughter of William Calvin Gaisford and Justina Mae Livingston. The couple had a daughter, Barbara, and were the owners of the local Welcome Inn from 1957, until retiring in 1969. Herman was a member of the St. Joseph Lutheran Church and was a member of the American Legion, Post No. 568.
Herman passed away on March 6, 1978, and was buried in the Lincoln Charter Township Cemetery in Stevensville, MI.