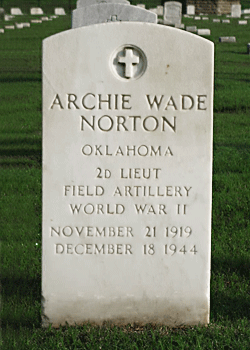 Archie W. Norton
Biography: Archie Wade Norton was born on November 21, 1919, in Shamrock, Oklahoma. He was the eldest son of Reuben Wade Norton and Lula Mae Byrum. The family moved to Coweta, OK, in 1924, and Archie attended school in Coweta, graduating in 1937. Archie had also become a member of the local Methodist church.
In April of 1938, he moved to Wyoming and was living with relatives in Glenrock, while he worked in an oil refinery. In June of that same year, he joined the National Guard, receiving training at Fort Lewis, Washington and California.
Service Time: Archie entered the service on February 24, 1941, at Glenrock, WY. He was assigned to the 811th Tank Destroyer battalion and was chosen for Officer's Candidate Training. He was commissioned as a Second Lieutenant on February 11, 1943, and was assigned to lead Second Platoon of B Company.
The unit trained at a number of facilities within the U.S including Camp Hood, Texas, Camp Carson, Colorado, the Desert Training Center in Needles, California, Camp Gruber, Oklahoma, and then to the Louisiana Maneuvers and Camp Claiborne and Camp Livingston in Louisiana. On January 16, 1944, while on leave from the unit, Archie married the former Thelma Ridgway who was from Broken Arrow, OK. The couple said their vows at Pryor, OK.
The unit traveled to Camp Miles Standish for final preparations before shipping out from the Boston port on September 5, 1944. They arrived at Cherbourg, France, on September 15th, equipped with M18 tank destroyers and moved to Luxembourg in November, participating in the Battle of the Bulge in December.
On December 17th, the 811th began actions to retake Mullerthal, which involved B Company and the 89th Reconnaissance Squadron. The lead tank destroyer was put out of action by bazooka fire, which caused them to withdraw. Their Second Section was then brought up to resume the attack and the unit history mentions that Company B had three men wounded and four missing on the 17th or possibly the 18th. On the 18th, Lt. Archie W. Norton was declared KIA (Killed In Action). There is no mention of how he died but the unit was under heavy artillery fire during the period. His death could also have been due to direct enemy contact.
Obituary – Coveta Times Star, Thursday Jan. 18, 1945
Archie was initially buried overseas, but was later brought home and buried in the Fort Gibson National Cemetery in Fort Gibson, OK.
In addition to Archie's service, both his brothers also served during WWII. At the time of Archie's death, his brother Lt. James B. Norton was serving with the Army Air Corps in India. His brother Pvt. Rupert P. Norton was with the 5th Army in Italy.
I want to thank researcher Steve Harris for his assistance and also to Find A Grave contributor Lonnie Hoover for the use of the grave marker photo.