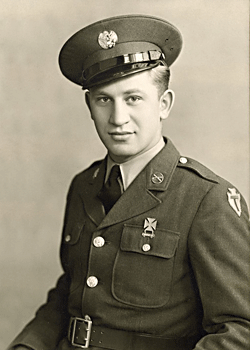 Leo R. Norkewicz
Biography: Leo Robert Norkewicz was born on March 20, 1920, in Melrose Park, Illinois. He was the son of Leo Peter Norkewicz and Pauline Kolinski and attended Sacred Heart Elementary in Melrose Park until the family relocated. Leo graduated from Morton East High School in Cicero, IL, and then worked as an inspector for the Sunbeam Corporation.
Service Time: Leo entered the service on July 11, 1942, at Camp Grant, IL, where he completed his basic training. He was assigned to the Reconnaissance Company of the 636th Tank Destroyer Battalion and trained with them in the U.S.
The unit shipped out from the New York port on April 2, 1943, arriving at Oran, Algeria, on April 13, 1943. They boarded ships again and landed at Paestum, Italy, beginning on September 13th. Elements performed artillery missions, guarded the Fifth Army Command Post, and trained British troops on the M10 Tank Destroyer and TD doctrine in October and November.
They reentered the line at the Mignano sector in late November, supporting the assault on San Pietro and the Rapido River crossing in January, 1944. Entering the Cassino sector in February, they then transferred to the Anzio beachhead in May, entering Rome on June 4th.
Leo's main responsibilities were to bring supplies to the front by truck but serving with Recon meant he would have various other tasks to support his company, including laying on his stomach with another 20 guys, probing the ground for mines with their knives.
The photo below was taken while the unit was stationed in Oran, Algeria, in North Africa. Leo is shown on the left.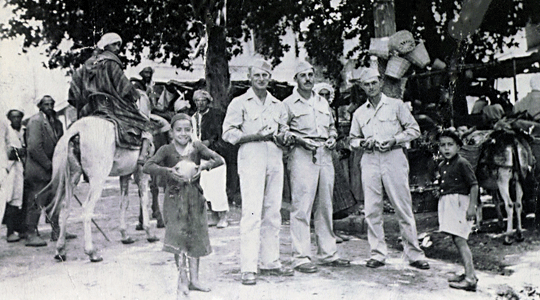 The 636th boarded ships again and landed in Southern France on August 15th. They were the first unit to enter Lyon and reached the Moselle River in September. Engaged in the Vosges Mountain region beginning in October, they relieved the 601st TD Bn in Strasbourg in December. They battled the German Northwind offensive in January and February, 1945, before converting to M36 tank destroyers, beginning in late February. During their last actions, they struck Siegfried Line defenses near Wissembourg in late March and crossed the Rhine, with the 14th Armored Division, in April.
Leo received credit for five of the unit's campaigns, including Naples-Foggia, Rome-Arno, Southern France, Rhineland and Central Europe. He was awarded the Bronze Star, along with the EAME and Good Conduct Medals. Leo shipped home on September 10th, arriving on the 13th. He was transferred to Company B of the 15th Combat Engineer and left the service on the 27th at Fort Sheridan, IL. At the time of his discharge, he held the rank of Private First Class.
Leo's Memories of WWII – A conversation with his grandson

Now back in the U.S., Leo initially went back to work at Sunbeam but for recreation, he loved ballroom dancing and became an instructor at the Aragon Ballroom in Chicago. In late 1945, he went to the Paradise Ballroom, also in Chicago, and asked the former Wanda Helen Korczynski to dance. The couple fell in love and on November 23, 1946, Leo married Wanda. Wanda had been born in Chicago, IL, and was the daughter of Stanley Korczynski and Zofia Skura.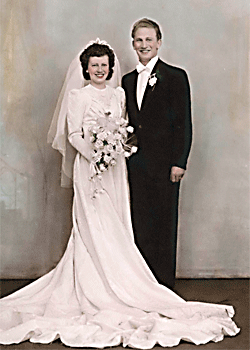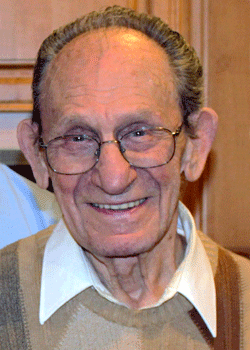 The new couple would make their home in Chicago but later moved to Melrose Park. Leo's job at Sunbeam was relocated out of state, so he went to work as a steel fabricator for Sheet Metal and Conveyor Company in Melrose Park. Leo and Wanda had three children, two daughters, Patricia, born in 1948, and Nancy born in 1951, and a son Gerry born in 1957.
In addition to dancing, Leo enjoyed spending time with his family, gardening, painting and listening to his favorite singers and music. He loved cheering for all his favorite sports teams, especially the Notre Dame football team and the Chicago White Sox and was a member of the VFW Tioga Post 2149.
Leo passed away on November 29, 2014, and was buried in the Queen of Heaven Catholic Cemetery in Hillside, IL. At the time of his death, he had 6 grandchildren and 3 great-grandchildren. I want to thank Leo's daughter, Nancy, for providing the information and photos for this tribute.