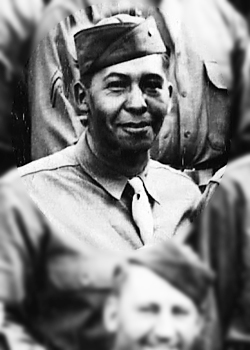 Lott Nesbitt
Biography: Lott Nesbitt was born on January 17, 1909, in Lapwai, Nez Perce County, Idaho. He was one of six sons and three daughters born to Walter Nesbitt and Elisa Alle-chin Nesbitt Ellenwood. On April 11, 1930, Lott married the former Elsie Pinkham in Lapwai.
His enlistment records indicates he completed grammar school and was working in the semi-skilled brick and stone mason and/or tile setter trade. It also shows he was divorced.
Service Time: Lott entered the Army on March 17, 1942, at Fort Lewis, Washington. On March 23rd, he was assigned to and joined Company B of the 607th Tank Destroyer Battalion, stationed at East Ord, California. He was promoted to Private First Class (PFC) on October 12, 1942.
He trained with the unit at a number of locations including: Fort Ord, Camp San Luis Obispo, Hunter Liggett Military Reservation and the Desert Training Center, all in California, along with Camp Hood, Texas and Camp Cooke, CA. His MOS (Military Occupation Specialty-his job) was anti-tank gun crewman. While they originally trained with M10 tank destroyers, the unit was converted to a towed battalion, utilizing the M5 3" anti-tank gun, on December 15, 1943.
Arriving at Liverpool, England, on April 21, 1944, they continued training. Company B landed at Utah Beach, Normandy, France on June 24th and the 607th supported the advance on Cherbourg, fighting along the Seves River in July. They joined the drive to Le Mans and envelopment of the Falaise Pocket in August, advancing to the Moselle River in September and supporting operations against Metz through November. The unit converted to a self-propelled battalion equipped with M36 tank destroyers in time for the final assault on Metz. Continuing the drive toward the Saar River, they participated in the attack on Saarlautern, Germany, followed by the subsequent fight against the Siegfried Line in December.
On January 7, 1945, Company B was attached to the 94th Infantry Division. On the 15th, 1st Platoon moved to Besch, Germany, and prepared to move to Nennig. As the area was not cleared of mines the platoon did not enter town. The platoon leader, leading a 1/4 ton jeep on reconnaissance of the route, was wounded when the 1/4 ton was blown up on a mine. The vehicle was destroyed and 3 enlisted men were killed. Lott was one of the three men.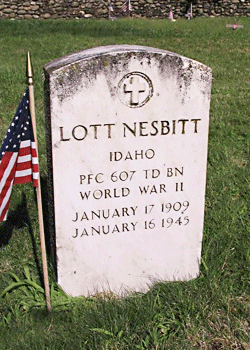 On January 19th, Private First Class Lott Nesbitt, Private First Class Marvin E. Stillings and Private Louis Juliano were all listed as Missing In Action (MIA) in the unit Morning Report (MR). On the 20th, all three men were listed as Killed In Action (KIA) in the MR.
PFC Nesbitt was initially buried overseas but in 1948, he was re-interred in the Lapwai Mission Cemetery, Spalding, Nez Perce, Idaho. We would like to thank Private First Class Nesbitt for making the ultimate sacrifice for his country.