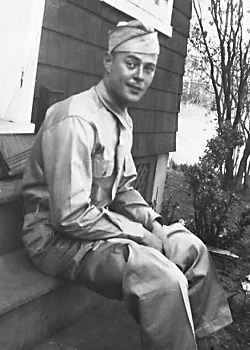 Samuel J. Nason
Biography: Samuel Joseph Nason was born on August 2, 1917, in Baltimore, Maryland. He attended local schools through the ninth grade and as indicated by his enlistment record, he worked as a stock clerk prior to the war.
Service Time: Samuel entered the Army on December 28, 1942, at Baltimore, MD. After his basic training, he was assigned to the 631st Tank Destroyer Battalion. The unit was initially equipped with self-propelled tank destroyers but was re-organized as a towed battalion using 3″ anti-tank guns, in December of 1943.
They trained with them at a number of military facilities including Camp Shelby, Mississippi, from July of 1943 until early in 1944. During that period, they were attached to the 7th Tank Destroyer Group as part of the IX, XIX and XXI Corps. On January 19, 1944, the unit was reassigned to the 8th TD Group and a month later on February 15, they were assigned to the 21st TD Group.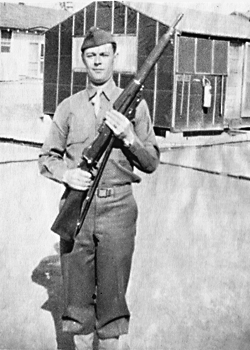 The unit moved to Camp Kilmer, New Jersey, arriving in May, 1944. They continued to train until they boarded the USS General J.R. Brooke and shipped to the United Kingdom on July 26th. They arrived in England on August 5th and then moved to Weymouth, England, arriving on the 29th. They immediately began to load their unit's equipment and personnel on ships and on the 31st, departed for France, landing on Utah Beach that same day. The 631st started a motor march of 335 miles and joined the Third U.S. Army on Oct 13, 1944, at Droue, France.
They unit was assigned to rear-area duties in France, Luxembourg and Germany, for the rest of the war as part of the Third Army. They traveled 495 miles through France to Luxembourg, arriving on December 28th. In mid-January, Samuel was evacuated to a field hospital for a nervous condition identified as battle fatigue. While there, the building that was being used as a hospital was shelled and Samuel was moved by ambulance to another hospital where he received medical treatment until March 6th. The 631st would go on to received credit for campaigns in Northern France, Rhineland, the Ardennes and Central Europe. Samuel was reassigned to the 44th Armored Infantry Battalion of the 6th Armored Division but was shipped back to the U.S. and received a medical discharge at the rank of Private, on May 8th (VE Day). He was awarded the EAME ribbon with three campaign stars and the Good Conduct ribbon.
Samuel returned to Baltimore and became a Baltimore County Police Officer. He married the former Ethel May Fletcher and the couple had four children, Joseph, Nancy, Wanda and Richard. Samuel was also a member of the VFW. He passed away on July 23, 1984, and was buried in the Woodlawn Cemetery in Woodlawn, Maryland.
I want to thank Samuel's son, Rick, for providing the information and photos for this tribute.