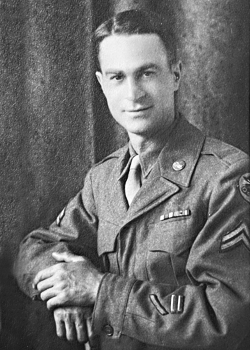 Joseph F. Narducci
Biography: Joseph Francis Narducci was born on November 19, 1905, in Bethlehem, Pennsylvania. He was the son of Anthony Narducci and Elizabeth Gabriella and graduated from local schools. Prior to the war, he worked as a steelworker but he may have had some experience as a shipping clerk as indicted by his enlistment record.
Service Time: Joseph entered the service on March 6, 1942, at New Cumberland, PA. After his basic training, he was assigned to Company A of the 631st Tank Destroyer Battalion. The unit was initially equipped with self-propelled tank destroyers but was re-organized as a towed battalion, using 3″ anti-tank guns, in December of 1943.
They trained at a number of military facilities including Camp Hood and Camp Bowie in Texas, Camp Claiborne, Louisiana, where they participated in large scale maneuvers and Camp Shelby, Mississippi, where they were stationed from July of 1943 until early in 1944. During that period, they were attached to the 7th TD (Tank Destroyer) Group as part of the IX, XIX and XXI Corps. On January 19, 1944, the unit was reassigned to the 8th TD Group and a month later on February 15, they were assigned to the 21st TD Group.
While they were stationed at Camp Hood, Joseph was sent to 8 weeks of weapons training. He would eventually qualify as an Expert with a variety of weapons, including the 30 Caliber Carbine, the 37 MM Anti-tank gun and the Thompson Sub-machine gun. He would serve as a gunner on a tank destroyer crew and was known for hitting what he aimed at.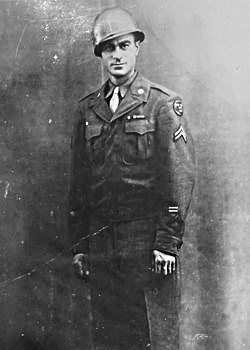 The unit moved to Camp Kilmer, New Jersey, arriving in May, 1944. They continued to train until they boarded the USS General J.R. Brooke and shipped to the United Kingdom on July 26th. They arrived in England on August 5th and then moved to Weymouth, England, arriving on the 29th. They immediately began to load their unit's equipment and personnel on ships and on the 31st, departed for France, landing on Utah Beach that same day. The 631st started a motor march of 335 miles and joined the Third U.S. Army on Oct 13, 1944, at Droue, France.
The 631st was assigned to rear-area duties in France, Luxembourg and Germany, for the rest of the war as part of the Third Army. They traveled 495 miles through France to Luxembourg, arriving on December 28th. Joseph received credit for two of the unit's campaigns, Northern France and Rhineland. He was awarded the EAME and Good Conduct Medals and shipped home on October 8, 1945, arriving back in the U.S. on the 17th. He left the service at Indiantown Gap Military Reservation at the rank of Corporal. Although he carried shrapnel scars throughout his life, he never received the recognition of those wounds.
After the war, Joseph would make his home in Philadelphia and find work as a mailman. He later worked as a Security Guard at the Quartermaster Depot in Philadelphia where he reached the rank of Lieutenant. On March 2,1947, Joseph married the former Rose Marie Coccaro who was born in Brackenridge, PA and was the daughter of Joseph Coccaro and Anne Conte. The new couple would have two sons, Kenneth and Anthony.
Joseph passed away on January 3, 1972, and was buried in the Palmer Cemetery in Philadelphia, PA. I want to thank Joseph's son, Anthony, for proving the information and photos used in this tribute.