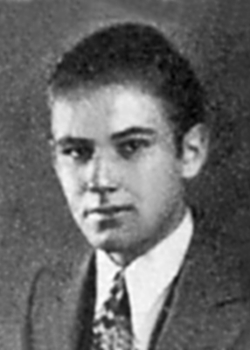 Stuart H. Nixon
Biography: Stuart Henry Nixon was born on September 1, 1914, in Bellville, Kansas. He was the son of Arthur and (Lydia May or May Lydia) Nixon. At some point prior to April 7, 1930, the family moved to Glendale, California, as identified on the census. After graduating from Glendale High School, he continued his education at the State Agricultural College at Davis.
Stuart registered for the draft on October 16, 1940, and at the time, he was working at the University of California, Davis. His draft card states that he was six feet tall and weighed 175 lbs., with brown hair and eyes.
Service Time: Stuart entered the service on March 4, 1941, at Sacramento, California. At some point during his basic training or soon thereafter, he was chosen to attend Officer Candidate School (O.C.S.).
We are not sure when Stuart shipped overseas but by the summer of 1944, he had attained the rank of captain and was the commanding officer of Reconnaissance Company, 894th Tank Destroyer Battalion. By that point, the 894th was stationed in Italy and had been there since late 1943. A document in the National Archives titled, "Battalion History, 894th Tank Destroyer Battalion" for September 1944, stated that on the afternoon of September 2, 1944, near Pisa, Italy, Captain Nixon "was killed by a mine walking over an area that had been previously trampled by a considerable number of soldiers."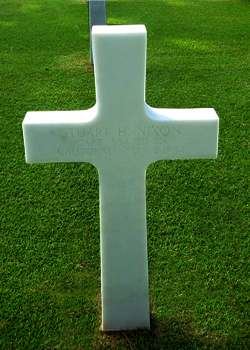 Captain Nixon's body rests at the Sicily-Rome American Cemetery in Nettuno, Italy, Plot 1, Row 2, Grave 70. We want to thank Lowell Silverman for the researh he did on this tribute and also Find A Grave contributors Linda Carole Mustion and John Richter, for the use of the main and grave marker photos.