Richard M. Nason
Biography: Richard Marchant Nason was born on August 19, 1925, in Greer, South Carolina. He was the son of Albert Dewey Nason, Sr. and Ruby Mae Norris and from the time he was very young, Richard had a spirit of service. As a child, he worked herding the neighbor's cows to earn a gallon of buttermilk for his family. Around 1933, the family moved to his mother's hometown of Phenix City, Alabama, where he attended Central Middle and Central High Schools. Richard dropped out in 10th grade to help support his family and found a job working part-time repairing bicycles at a Foremost Auto Store in Columbus, Georgia. He left there for a full time job at the Eagle & Phenix (textile) Mills but his age and color blindness made this job just a stepping stone to a better job with the AAFES. The Army & Air Force Exchange Service at Fort Benning, GA, hired Richard to work for the PX grocery stores on base. He stayed with them until he was drafted in September of 1944. The photo at left shows Richard at the time of his graduation from basic training in August of 1944.
Service Time: Richard entered the service on September 9, 1944, at Fort McClellan, AL. He went to Fort Knox, Kentucky, for his basic training before shipping to Europe to join Company A of the 899th Tank Destroyer Battalion. He remained with the unit and left the service on July 22, 1946, as a Private First Class. A letter he sent to his mother, who he called "Sara," on October 29, 1945, states that he had just come back from battle training and that the unit had moved to Bad Aibling, Germany.
Richard Nason letter to Sara – Oct. 29, 1945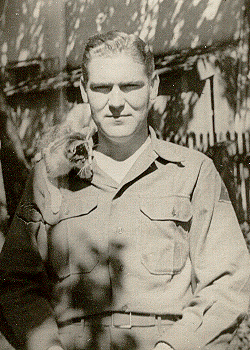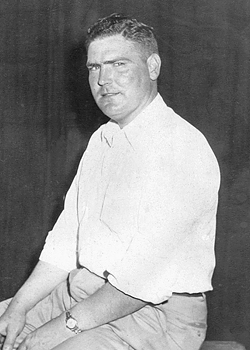 The picture above left shows Richard in Germany, probably during the unit's occupational period. The right photo shows him around 1960.
On August 14, 1949, Richard married the former Betty Ophelia Gannon, originally of Fort Benning, GA. She was the daughter of Pippin Gordon Gannon (a retired, Field Artillery Soldier) and Ophelia Hill. The couple made their residence in Phenix City, AL, and together had one daughter, Cynthia, born in 1951.
When Richard returned to the U.S., he worked for the Gallman Distributing Company of Columbus, GA, delivering pies for the Edwards Pie Company. He then briefly worked for the Muscogee News Company but was recalled to active duty on September 11, 1950. He served for another year and a half as Security NCO of the Nancy Ordnance Department in Nancy, France. During this time, he also spent some time at both Fort Polk, Louisiana, and the Aberdeen Proving Ground in Maryland. He was honorably discharged again on June 30, 1952. Over the next 33 years, Richard worked at a number of government facilities in a variety of positions, eventually retiring from the Army National Guard of Opelika, AL in 1985, at the age of 61. He was credited with 40 years of military service.
During these many years of National Guard service, he earned the nickname "Rount Man" and he was known for his card playing and pipe smoking. He was also known as a mentor to many of the younger soldiers no matter their sex or color and looked out for them on a daily basis. The motto of his last unit, the 111th Ordnance Group, was "Authority With Character," which was on the front of his retirement program. On the back of the program, he was referred to as one of the "Characters With Authority."
When Richard wasn't working, you could find him reading a good book which included devotional reading of the Bible. He was also a member of the local Presbyterian Church. Richard passed away on December 20, 1993, and was buried at Fort Benning, GA.
I want to thank Richard's daughter, Cynthia, for providing this information and the photos of her father.