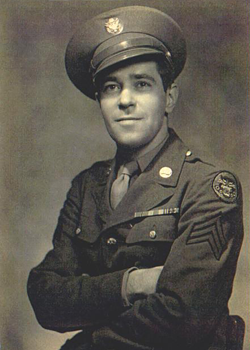 Frank E. Nichols
Biography: Frank Ellsworth Nichols was born on March 2, 1918, in Harrison, Ohio. He was the son of Frank Ellsworth Nichols and Ethel Rose and graduated from Richmond High School in Indiana. Frank was one of five brothers who served in the military during WWII (See Article Below).
Five Sons In Armed Forces Article

Service Time: Frank entered the service on December 28, 1942, at Indianapolis, IN. He went through basic training at Camp Hood, Texas and spent some time at San Luis Obispo, California, before shipping overseas in January of 1944 and being assigned to Company C of the 607th Tank Destroyer Battalion. The unit landed at Utah Beach in Normandy, France, and saw action in the Falaise Pocket, during the advance to Moselle River and supported operations against Metz. They joined the drive toward the Saar River and the capture of Saarlautern, and fighting against the Siegfried Line. They were then deployed to the Ardennes and committed against the Siegfried Line again in February. He distinguished himself in service carrying communications under fire between Headquarters and the TD units at the front. He was awarded the Bronze Star for Heroic Achievement per General Order #18 of the 95th Infantry Division on January 21, 1945, and left the service at the rank of Staff Sergeant.
Frank married the former Emily Ann Tewell of Lawrenceville, Illinois, and together they had three children, Janice, Daniel and Patricia. The family moved to Florida in the late 1940's and Frank found work as a draftsman and later, as a sales representative for RCA and Quaker State motor oil.
Frank passed away on August 26, 1974, and was buried in Lakeland, FL. I want to thank Frank's son, Dan, for providing this information and photo. Dan's service in the Navy during the Viet-Nam era is a testament to the proud heritage of service modeled by his father.