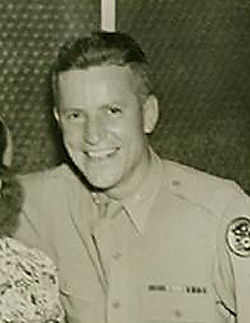 Russell H. Newbury
Biography: Russell Howe Newbury was born on October 31st, 1914, in Bethlehem, Pennsylvania, but he grew up near Pittsburgh, in Sewickley, PA. He was the son of George Kellogg Newbury and the former Marion Robb of Boston. He attended primary and secondary schools in Sewickley and went on to receive a full ROTC scholarship to the University of Wisconsin. It wasn't long until Russell began making his mark on campus. While studying for the Civil Engineering field, Russell would rise to become Regimental Commander, Captain of the rifle team, member of the Chi Epsilon fraternity and assist with the military ball. He received three Legislative scholarships and sophomore honors before his graduation in 1937.
After college, Russell began his new life and married the former Mabel Sanders on October 26th, 1939. "Sandy", as she was known, was the daughter of Henry and Dora Banks Sanders of Fitzgerald, Georgia. The Newburys had their first child, a son, Michael Charles, on June 10, 1941. With such a stellar military start, you would expect him to go directly into the military but his son tells me that this was far from his mind. In fact, Russell took a job selling creosote soaked railroad ties and poles to get away from it. He had grown to dislike the military way and sought a different direction for himself and his growing family.
Service Time: In 1940, for financial reasons, Russell took up his commission and entered into service at Fort Benning, GA. In 1942, General Patton sent him to Texas where he was transferred into the Tank Destroyers ranks and the HQ Co., 6thTD Group. He is listed in a roster of the unit in 1943 and remained with the unit throughout their time in Europe, traveling through France, Belgium, Holland and Germany. During his time in the service, the Newburys welcomed their second child, Kathleen "Kay" Frances, on Oct. 27, 1943. Kay was over two years old before Russell saw her. At the end of the war, he was assigned to detached service for the XIII Corps and temporary service for the Third Army. On June 3rd, 1945, he was awarded the Bronze Star for his service while the 6th was attached to the XIII Corps. He eventually transfered out of the 6th TD Grp. in July, 1945. He left the service soon after the war as a Lt. Col.
One very interesting story revolves around Russell and Sandy's friend Major Dwight Morrison. Dwight was a decorated bomber pilot of a B-26 nicknamed "Tobacco Road" and had survived sixty-five bombing missions over Europe. After the war, he was in Atlanta, staying in room 1026 at the Winecoff Hotel waiting for Russell to arrive home for a visit the next day. Tragically, a fire destroyed the hotel on Dec. 7, 1946, and Dwight Morrison perished. The fire took the lives of 119 guests. He left behind a wife, Hilda, and a son born in Feb. 1947, two months after the fire. Dwight Morrison was only 26 years old. Photos of both Dwight and his wife Hilda can be seen in the "Photo Gallery" on the 6th TD Group page.
After WWII, Russell became the Southern Regional Manager of Gould Batteries in Atlanta, GA, and later, a salesman for the Baker Materials Handling company, which later became the familiar Otis Elevator Co. He also put his heritage to work for him as his father had graduated from MIT and was a professional inventor for the the auto industry and a woodworking enthusiast. Russell inherited both his father's love of inventing and woodworking. Over the years, his many talents were shown throughout their hi-tech home in Avondale Estates, the subdivision he designed on Lake Lanier, and their one room cabin there. Of the three boats he built, the last boat was a 48′ fiberglass ferro sailboat he named "Free at Last". Another interesting story starts with the threat of hurricane Hugo, in which Russell tied all the trees in the yard to their home, protecting both the home and the trees. Through the storm, the Newbury's didn't lose a single shingle even though all around them, the storm's path of destruction was evident.
The Newbury's welcomed twin girls into the family on Feb. 19, 1950. Janet Allison and Judith Virginia brought the family total to six. With t
he threat of war in Korean looming, Russell was called on to come back to the military. He was forced to make a difficult choice, ultimately Russell would resist some very strong "official" requests to come back and serve his country, actually turning down a promotion to full Colonel to stay with his family.
In addition to his hobbies, Russell never lost his leadership skills, and served as head of the Coast Guard Auxiliary in Glenn County, GA. Russell died on October 10th, 1993, and was buried in Richmond Hill, GA. Sadly, Kay would die just two weeks later and was buried on her birthday.
I want to thank the Newbury family for their help with both information on their father and for providing a number of photographs posted in the Photo Gallery on the 6th TD Group page.