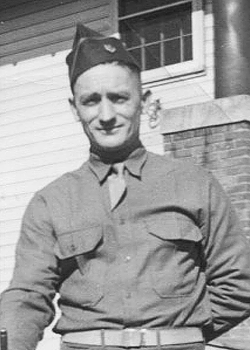 Jay H. Nesbit
Biography: Jay Harris Nesbit was born on March 17, 1908, in Perry County, Pennsylvania, possibly in Loysville. He was the son of John A. Nesbit and Mary Florence "Mame" Harris and attended grammar school locally. His enlistment record identifies his pre-war occupation as being semi-skilled public service. He is also listed as single but having dependents. Jay did have twin boys that were given up for adoption at an early age.
Service Time: Jay entered the service at Harrisburg, PA, on December 19, 1942, and was assigned to Company B the 644th Tank Destroyer Battalion, which received credit for the Normandy, Northern France, Rhineland, Ardennes-Alsace and Central Europe campaigns. Jay left the service at the rank of Technician 4th Grade.
When Jay returned to the U.S., he also returned to Loysville and became a co-partner in a logging and saw mill business. When things were slow, he worked at the Navy Depot in Mechanicsburg, PA. In his spare time he enjoyed hunting and fishing. On October 30, 1951, Jay passed away suddenly at the age of 43.
I want to thank Jay's niece, Linda, for the information and photo of her uncle.