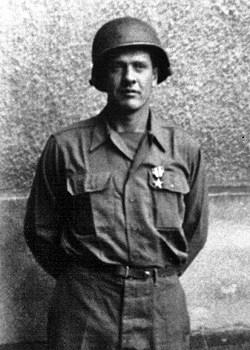 Sherman T. Norton
Biography: Sherman "Slim" Thomas Norton was born on September 29, 1915, in Fairfax, Oklahoma. He was the son of Henry Richard Norton and Caroline Evans and attended local schools in Fairfax until he left school to work as a farmer. On March 6, 1939, he married the former Sybil Louise Lane who was the daughter of William Bates Lane and Lou Addie Maxwell of Dyer County, Tennessee.
Service Time: Sherman entered the service and was assigned to B Company of the 774th Tank Destroyer Battalion, which was activated on December 15, 1941, at Fort Benning, Georgia. Sherman was known as a man you could depend on and his fellow soldiers would learn that lesson well.
The following excerpt is from the unit's published history: "On March 6, 1945 (during actions against the Germans at Lampaden Ridge in the Rhine Province) having learned that his unit commander (Lt. Charles L. Smith) had been wounded and was lying helpless in a position fully exposed to enemy machine gun and artillery fire he went to his rescue. With complete disregard for his own safety, he crossed the fire swept terrain and carried the wounded officer to a position of safety." Sherman received the Silver Star for his heroism under General Order #101, Headquarters, 94th Infantry Division (1945). The photo above left shows Sherman just after he received his award from Major General Harry J. Maloney, Commander of the 94th Infantry Division.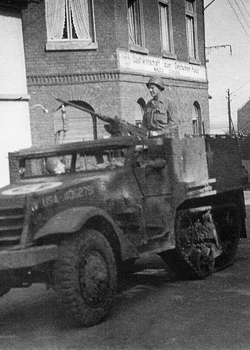 Sherman got to see Lt. Smith at the unit's 50th Anniversary celebration, which was held at Myrtle Beach, South Carolina. The officer was in a wheel chair and told Sherman that he didn't know whether he should bless him or curse him for saving his life. Sherman left the service at the rank of Sergeant.
The photo to the left shows Sherman behind a .50 caliber machine gun in one of the unit's transport vehicles.

When Sherman returned to the U.S., he returned to his growing family and to farming. Together he and Sybil had three children, Curtis born in 1940, Linda born in 1946 and Jackie born in 1956. The couple would also raise Sybil's daughter, Joan, who was born in 1937. Sherman worked as a cotton farmer in Mississippi County, Arkansas, at the Cloud Oak Flooring Mill and as a road grader for the Howell County, Missouri, Road District. When he wasn't working, he enjoyed spending time with his family, playing cards and later, many activities with his grandchildren. Sherman was a member of the John T. Kirk VFW Post #1828 and the First Baptist Church in West Plains, Missouri.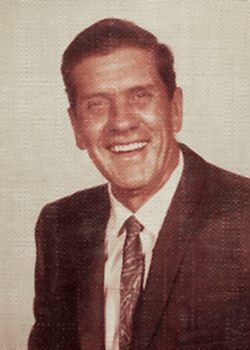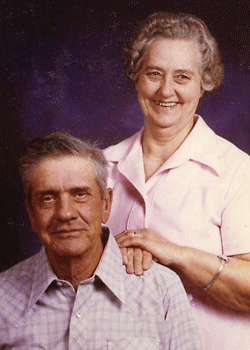 Sherman passed away on July 8, 1996, and was buried in the Howell Memorial Park Cemetery in Pomona, Missouri. At the time of his death, he had been living in West Plains. I want to thank Sherman's daughter, Joan, for her assistance with this article by providing photos and information about her father.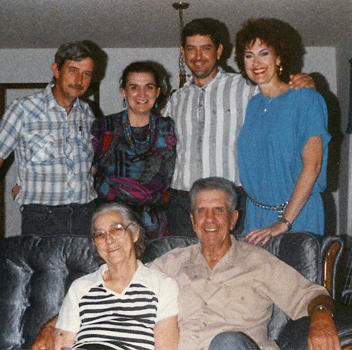 Shown on their 50th Wedding Anniversary (March 6, 1989) is Sybil and Sherman sitting with their children Curtis, Joan, Jackie and Linda standing, left to right.