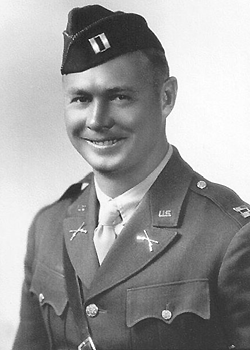 Biography: J. Laverne Nicklas, "Nick", was born September 21, 1913, on the family farm located in the Red Lake area between Elida and Dora, Roosevelt County, New Mexico. He was the son of William "Will" Henry Nicklas and Lillian Prudence "Pru" Nicholson. Two twin brothers, Glenn and Craig, were born on February 2, 1915. Nick attended various local schools, graduating from Elida High School in 1931 and enrolling at New Mexico A & M College (now New Mexico State University) in Las Cruces that fall. He attended college from that time until he withdrew and entered the CCC (Civilian Conservation Corps). Nick is listed as a Captain and was stationed at the Mirage Camp (DG-36), located NE of Deming, NM. He returned to college in the fall of 1937 and graduated the next spring with a BS in Agriculture.
While serving in the CCC, he met Mary Josephine Schoepf, from Deming, and they were married on June 26, 1938. Their first daughter, Carol Ann, was born in March of 1940 while they were living in Deming. Nick managed a gas station at this time. The family later moved to Clayton, NM, where their second daughter, Mary Margaret (Margo) was born in March of 1941. Nick was working for the Farm Security Administration at this time.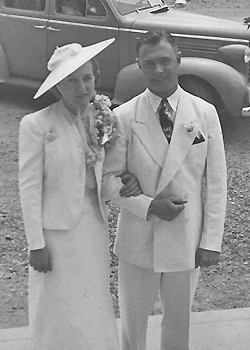 Photo at left shows Nick and Mary Jo at their wedding.
Service Time: Nick was called to active duty in December of 1941 and was first stationed at Camp Hood, Texas. He was next transferred to California and assigned to Company B of the 607th Tank Destroyer Battalion. The unit trained in the U.S. throughout 1942 and 43, eventually landing in England on April 21, 1944.
The 607th landed on Utah beach in two groups on the 17th and 23rd of June, 1944. Attached to various infantry divisions, the 607th fought through Normandy, across Northern France and into the Rhineland. In late January, 1945, they were withdrawn from Germany and sent to Belgium in the Ardennes. Crossing the Rhine River on March 25th, they continued to attack eastward. With the German forces retreating rapidly, on April 10, a fast moving armored unit called Task Force Sundt (named for the Commanding Officer of the 607th), was reconstituted for the 2nd time as part of the 87th Infantry Division.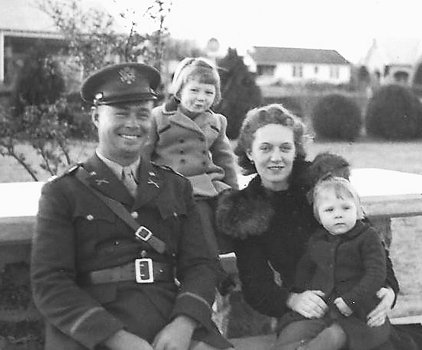 The Task Force was split into three companies with Captain Nicklas commanding the 2nd Company. During combat in Thierbach, Germany, on April 16th, 1945, Captain Nicklas made the ultimate sacrifice for his country. While directing the 1st and 2nd Companies against a heavily defended road block and house in the center of town, he was killed by a sniper. Following this, the two companies withdrew, and, using tracer and incendiary rounds, set fire to and burned the town as a monument to the Captain. Seventy-five German troops, including a Colonel, were taken prisoner. For his courageous actions and devotion to duty, Captain Nicklas was posthumously awarded the Silver Star and Purple Heart medals. He had previously earned a Bronze Star for his actions in France, August 18-20, 1944.
Photo above shows, L to R: Nick, Carol, Mary Jo and Margo.
Captain Nicklas is buried at the United States Military Cemetery, Margraten, Netherlands, Plot F, Row 4, Grave 18. Unfortunately, his name was spelled incorrectly on the grave marker. Mr. Casper Eurlings, Maastricht, Netherlands, has led the efforts to correct this error and we have received confirmation from the American Battle Monuments Commission that the marker will be corrected in the future. This information will be updated accordingly.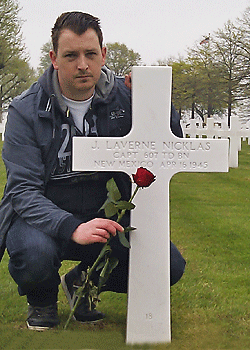 4/19/2014-We recently received news that the grave marker for Captain Nicklas now has his name spelled correctly. The photo at left shows Casper with the new marker. We would like to thank Casper for his efforts to get the new marker made and placed.

The following link is to an article in the Clovis (NM) News Journal, by David Stevens, telling the story of the grave marker for Capt. Nicklas: http://www.cnjonline.com/2014/05/10/soldier-honored-with-tiny-detail/
We would like to thank Captain Nicklas' daughter, Carol, for providing the photos and information used in this tribute.