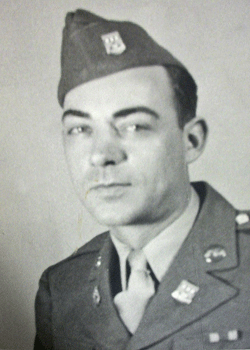 Eric A. Nelson
Biography: Eric A. Nelson was born on December 7, 1913, in Las Animas, Bent County, Colorado. He was the son of Mr. and Mrs. C. E. Nelson and attended local schools through the 10th grade. After leaving school he worked on the family farm and for the Santa Fe Railroad as a fireman.
He later worked at the Diamond A Market in Denver, CO, where he served a four year apprenticeship before being promoted to foreman of the sausage kitchen.
Service Time: Eric entered the Army at Denver, Colorado, on Dec. 28, 1942, and was eventually assigned to Company C of the 773rd Tank Destroyer Battalion. He was an assistant driver/cannoneer in an M10 tank destroyer. While stationed at Camp Hood, Texas, he took part in an 8 week course for radio and electrical operation and repair, which became one of his other duties in the TD.

The 773rd was attached to the 90th Infantry Division for most of the war. They entered combat at the Falaise Pocket in August, 1944, and later fought in major battles at Luneville and the Foret de Parroy. They ended the war at the Germany/Czechoslovakia border. The unit received credit for four campaigns: Northern France, Rhineland, Ardennes-Alsace and Central Europe.
On August 20, 1944, while in the vicinity of Chambois, France, the crew of the TD he served on were part of a fire-fight at very close range. Even though they were facing a superior force, Pfc. Nelson and the crew were able to overcome them and 300 enemy soldiers, including Brigade Commander, were captured. For this action, Eric received the Bronze Star for heroic actions .
Bronze Star Certificate – (90th ID, GO#230, dated Dec. 24, 1944)
Eric also received a Purple Heart along with the Good Conduct, WWII Victory and EAME medals and was entitled to wear the Distinguished Unit Citation ribbon as a member of Company C. He left the service at the rank of PFC.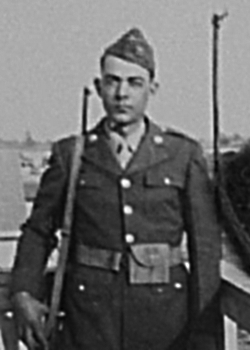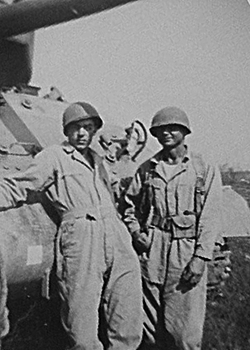 After returning to the U.S., Eric married the former Alice Faye Christensen on July 13, 1947. They went to Europe on their honeymoon and visited his relatives in Sweden. He was a member of the VFW in Las Animas and the American Legion in Lamar. He was the owner/operator of the Culligan Soft Water Service in Prowers and Kiowa counties. Eric passed away on October, 1956, and was buried at the Las Animas Cemetery, Las Animas, Colorado.