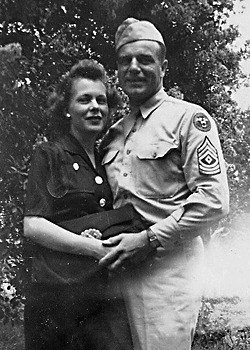 William R. Nopper
Biography: William Remigius Nopper was born on June 9, 1914, in Pittston, Pennsylvania. After graduating from high school, William continued his education at Duquesne University in Pittsburgh, PA. He was a three-year starter for the Duquesne football team as an offensive guard and was signed by the Detroit Lions prior to entering the Army.
Service Time: William was inducted into the service on July 28, 1941. After basic training, he was assigned to Battery B, 2nd Training Regiment. He was then transferred to the 638th Tank Destroyer Battalion in February of 1943. On April 6, while on leave, William married the former Margaret Barnes.
William quickly rose within the unit and was promoted to First Sergeant in July of 1943. They continued their training until August 30, 1944, when they shipped out from the New York port and arrived at Cherbourg, France, on September 7. They were equipped with M18's and were attached to the 84th Infantry Division, entering the line near Prummern, Germany, on November 20, in support of operations against the Siegfried Line. The 638th was then shifted to the Ardennes sector around Rochefort, Belgium, on December 22, and fought to reduce the Bulge during January, 1945. They were then committed to supporting the Roer River crossing in February and crossed the Rhine River on April 1, thereafter advancing across Germany and reaching the Elbe River, near Wittenberg, on April 24.
William received an in-field promotion to 2nd Lieutenant on May 5, 1945, just prior to the end of the war. He received credit for three of the unit's campaigns, including the Rhineland, Ardennes-Alsace and Central Europe. He was discharged in October, 1945.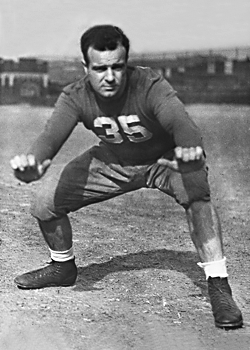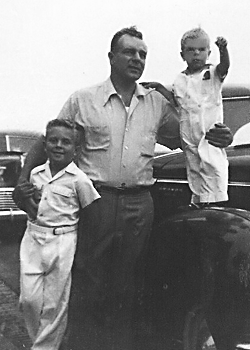 William and Margaret made their home in Silver Springs, Maryland, and had two sons, William and Arthur. William Sr. worked for the A.P. Woodson Company as a salesman of fuel oil products. In his spare time, he enjoyed hunting, fishing and knife making.
William passed away on September 28, 1987, and was laid to rest in the Mountain View Burial Park in Pittston, PA. I want to thank William's granddaughter, Sara, for providing the photos and information for this tribute.