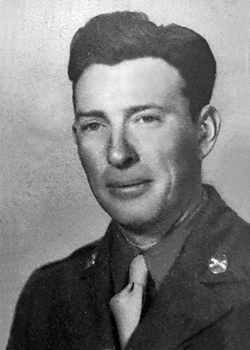 Robert G. Noe
Biography: Robert Gordial Noe was born on October 22, 1906, in Walland, Tennessee. He was the son of Raleigh Henry Noe and Nola May Farmer and attended school through the 9th grade. His enlistment record says that he was some type of truck, tractor, bus or taxi driver, his discharge lists him as a stationary boiler operator or fireman as they were known back then and census records list him as an oil field worker during the 1930's through the 40's.
Service Time: Robert enlisted into the Army on October 6, 1942, and went into active service on the 20th at Monterey, California. He received his basic training and then went on to Camp Hood, Texas, for additional training. At some point, he was assigned to Company C of the 825th Tank Destroyer Battalion and continued his training with them at various military facilities, including Camp Bowie, TX, and Table Rock Camp #1, also in TX. They returned to Camp Hood and then went to Camp Phillips, Kansas, briefly before shipping to Devils Lake, North Dakota, to assist with the record wheat harvest.
They participated in the Tennessee maneuvers from November 9, 1943, to January 15, 1944, before moving to Camp Campbell, Kentucky, and then Camp Breckinridge, KY. It was from there that they boarding trains for movement to Camp Kilmer, New Jersey to make final preparations for the trip overseas. They shipped out from the New York port on May 30, arriving in England on June 5th. On July 30th, the men finally went ashore at Utah Beach in Normandy, France.
The unit was assigned to the Communications Zone and 12th Army Group security duties between August and December, 1944, and on December 17th, the battalion entered combat near Malmedy, Belgium. On January 16, 1945, they returned to security duties.
Robert was awarded the American Campaign Medal, the EAME Medal and the Good Conduct Medal. He shipped home on October 18th and arrived back in the U.S. on October 27th. He left the service at Fort MacArthur, California, on November 4, 1945, at the rank of Pfc.
Little is known about Robert's life after the service but he passed away on April 21, 1979, and was buried in the Greenlawn Memorial Park in Bakersfield, California.