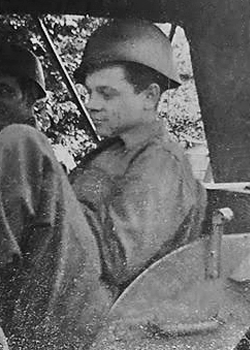 Frank H. Ondick
Biography: Frank Howard Ondick was born on October 6, 1920, in Pittsburgh, Pennsylvania. He was the son of John Ondick and Elizabeth "Lizzie" Jacobs and attended Greenfield Elementary in Pittsburgh.
Service Time: Frank entered the service and after his basic training was assigned to Company B of the 774th Tank Destroyer Battalion. The unit trained at multiple facilities within the U.S. While stationed at Camp Gordon in Georgia, the unit's M10 tank destroyers were taken and replaced with 3″ towed guns which required re-training with the new weapons.
The unit moved north and ended up at Camp Shanks, New York,followed by a move to Fort Dix, New Jersey and then Camp Kilmer, NJ, for final preparations for shipment overseas. They boarded the Nieuw Amsterdam and sailed from the New York port on June 3, 1944, arriving at Gourock, Scotland, on June 12, 1944.
The 774th debarked at Utah Beach on August 7th and joined fighting around Argentan, France. Moving eastward across France, to Lorraine, as part of a cavalry screen with the 7th Armored Division, they participated in fighting around Metz starting in September. The unit fought along the Saar River in December and then joined the rush north to the Ardennes. Converting to the M36 tank destroyer in late February, 1945, they drove to the Rhine River in March and held the Rhine west of the Ruhr Pocket in April, finally taking on military government duties.
Frank was awarded the Bronze Star and received the EAME Medal with four campaign stars signifying he was credited with each of the unit's five campaigns, including Normandy, Northern France, Rhineland, Ardennes-Alsace and Central Europe.
After returning home, Frank found a job as a steel mill worker. On February 28, 1946, He married the former Mary V. Cerra who is believed to have been born in Pittsburgh also and was the daughter of Carmen Cerra and Mary Gigliotti. The new couple made their home in Allegheny, PA, and had one son they named Frances.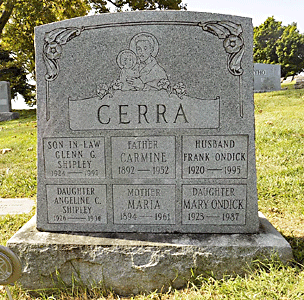 In his spare time, Frank enjoyed many outdoor activities, including gardening. His grandson fondly remembers sleepovers, going for walks, collecting Matchbox cars, and playing with Frank's electric train, which was a passion of his.
Frank passed away on January 13, 1995, and was buried in the Calvary Cemetery in Pittsburgh, PA. I want to thank Frank's grandson, Lane, for providing the information and main photo for this tribute. I also want to thank Richard Boyer for providing the grave marker image.