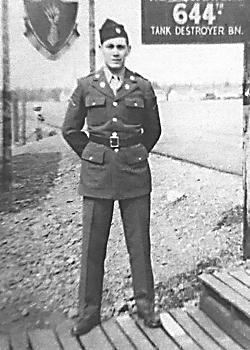 Andy Osko
Biography: Andy Osko was born on October 15, 1919, in Marianna, Pennsylvania. He was the son of George Osko and Rose Augustin who were both born in Austria. He attended local schools through the 9th grade and at the time of his enlistment, was working in some type of food service profession.
Service Time: Andy entered the service on December 31, 1942, at Pittsburgh, Pennsylvania. After his basic training, he was assigned to Company A of the 644th Tank Destroyer Battalion. The unit shipped out from the New York port on January 2, 1944, and arrived at Gourock, Scotland, on January, 11th.
After an additional 6 months of training and preparations, the unit boarded LSTs (Landing Ship Tanks) and landed at Utah Beach on the 11th and 12th of July. They were equipped with M10 tank destroyers and were committed to battle south of Le Haye Du Puits with the 8th Infantry Division on 15th. They participated in the Cobra breakout beginning on the 26th and then advanced into Brittany in August, helping to capture Brest in early September.
The 644th moved to Luxembourg in late September and fought in the Hürtgen Forest in November. Companies A and C moved to the northern Ardennes sector by early December and participated in the Battle of the Bulge, with Company B arriving late. They joined in elimination of the Bulge in early 1945, and the Roer River offensive in February. Reaching the Rhine south of Cologne in March, they crossed the river at Remagen and supported the reduction of the Ruhr Pocket in April. The unit swung eastward to the Elbe River.
Cpl. Andy Osko was serving as a gunner on one of 3rd Platoon, Company A's tank destroyers in the vicinity of Wendischthun, Germany. His TD hit an enemy anti-tank mine and he was killed but his body was not recovered. Andy had been originally reported as MIA (Missing In Action) but was ultimately identified as Killed In Action, on May 1, 1945.


His name was added to the tablets of the missing in the Henri-Chapelle American Cemetery and Memorial, Henri-Chapelle, Arrondissement de Verviers, Liège, Belgium. I want to thank Serge Lemaire for his assistance and I also want to thank Dave Hansen for the use of the memorial photo.