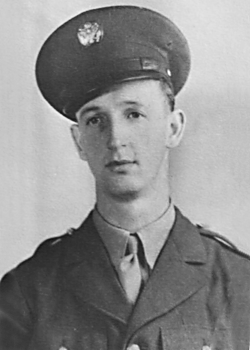 Hubert L. Ownby
Biography: Hubert Leon Ownby was born on December 16, 1915, in Cleveland, Tennessee. He was the son of David Luther Ownby and Delphia Roselee Wheeler and attended East Brainerd Elementary School through the grammar level. He enlistment record indicates he was working in a semi-skilled storekeeping and related occupation.
Service Time: Hubert entered the service on September 10, 1942, at Fort Oglethorpe, Georgia. After his basic training, he was assigned to Company A of the 825th Tank Destroyer Battalion and trained with them at a number of military facilities within the U.S. It was during his training that Hubert qualified as a Marksman with the Thompson Sub-Machine gun. He specifically served as a driver of one of the unit's half-tracks.
The 825th sailed from the New York port on May 30th, 1944, aboard the Queen Elizabeth, arriving in Scotland on June 5th. After an additional 2 months of training, the men and equipment were loaded on LST's and arrived on Utah Beach in Normandy, France in July 30th. They were equipped with 3″ towed anti-tank guns and were initially assigned to the Communications Zone where they performed 12th Army Group security duties between August and December, 1944. Although not confirmed, it is believed that on December 18th, when first platoon of A Company was sent to Stavelot, Belgium at the start of the Germans Ardennes offensive, the rest of the company, including Hubert, remained in Malmedy, BE, and fought with the 99th Infantry Battalion (made up of American, Norwegian-speaking soldiers) against the SS Panzer Brigade 150, under the command of Obersturmbannführer Otto Skorzeny.
The unit received credit for the campaigns of Northern France, Rhineland and Central Europe and Hubert was awarded the EAME, American Campaign, WWII Victory and the Good Conduct Medals. He left the service at the rank of Technician 5th Grade.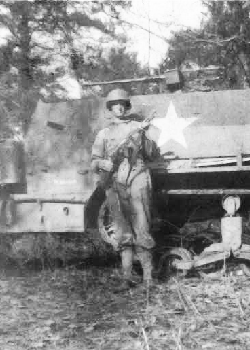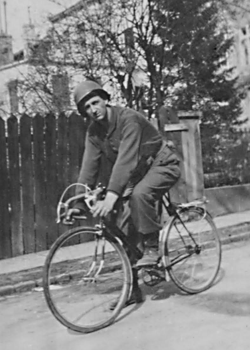 After returning to the U.S., he initially worked for the Cavalier Company of Chattanooga, TN, which manufactured wooden ice boxes and later refrigerated vending machines for soft drinks, particularly for Coca Cola. On October 10, 1947, he married the former Dorothy Lene Duggan who was born in Benton, TN, and was the daughter of Dave Duggan and Ethel Marie Groomes. The new couple would make their home in Cleveland, TN. Hubert later worked for the Dixie Foundry, which changed its name to Magic Chef in 1960, and more recently as Maytag Cleveland Cooking Products. Hubert retired from the company after 30 years. Hubert and Dorothy had three children, sons Randy and Steve, and a daughter, Gloria. In his spare time, Hubert enjoyed gardening, farming and woodworking.
Hubert related a number of stories to his family and his daughter was kind enough to share a few with us here:
On one occasion, Hubert and some others from the unit, had walked until it had become dark and finally came across an old barn. Exhausted as they were, cold and hungry, they decided to go inside the barn and get some much needed rest. They briefly looked around, then settled down for rest and some sleep for those that were able to due to the freezing cold and snow. They had rested until just before daylight as they wanted to get out of the barn before it was light outside and be gone from that area. A few of the guys were up before the others, including Hubert, who began looking around the barn. Well, to their surprise they were not alone. It seems the Germans had also decided to get rest and were sleeping on the other side of the barn. Well, this caused us to ask the same question, what did you do? What happened? He said, "Well, we very quietly slipped out of the barn, and got out of there as fast as we could. We were all glad that we woke up before they did, or they would have killed every one of us." Adding, "They didn't want to kill anyone, but they knew the Germans would not have felt the same way they did."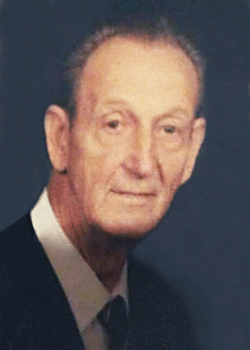 Hubert told us about driving the half-track one night, when they had to drive without headlights and only a peep hole to see out the windshield. On this particular night his Sergeant was riding with him and said, "You are the only one that I can ride with and get a little sleep without being afraid of their driving." Shortly after he said that Hubert ran off the road and into a ditch. He said he was "watching a power line that was along the side of the road when the road went around a curve and the power line went straight." He said "they had a big laugh out of it but the Sergeant continued to ride with him."
On another occasion, they were in a battle in Germany and they were hunkered down among some houses for cover. They were running out of ammunition and one of the army trucks came by and threw out boxes of ammo. He came out from behind the corner of the house, grabbed a box, then ran back to where he was standing. He opened the box to find it was empty, so he had to run back out and grab another box that had only a little ammunition in it. He said "It was a little funny now but wasn't at the time." Shortly after this he and the others with him left the house they were hiding behind and a bomb dropped on the house, knocking them to the ground and making it into rubble.
He told us that he was standing guard on the streets in a town one day but he didn't mention the name of the town, and had taken out a sandwich he had on him. As he opened it, he noticed a little boy across the street watching him. He said, "I knew that little boy was hungry but we were told not to give the people in those towns nothing. No water, food, or anything ever." The look on that little boys face was more than he could handle, so he dropped his hand down to his side, turned his head away as though looking down the street. He said, "the little boy took advantage of that moment, ran over to him, grabbed the sandwich out of his hand and ran away. I knew I would get into trouble if they ever found out that he gave the little boy the sandwich, but nobody ever said anything." He said, "I knew I would get another meal, but no telling how long that little boy had gone without food."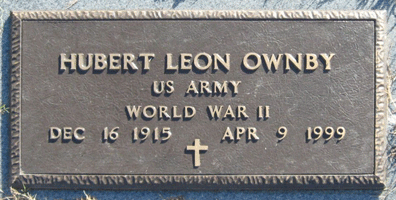 Hubert passed away on April 9, 1999, and was buried in the Sunset Memorial Gardens in Cleveland, TN. I want to thank Hubert's daughter, Gloria, for providing the information and photos for this tribute. I also want to thank Serge Lemaire for his research and Mary Fraser Hodson for helping to make contact with the Ownby family. Also, thank you to Find A Grave contributors Marvin & Samme Templin for the use of the graver marker image.