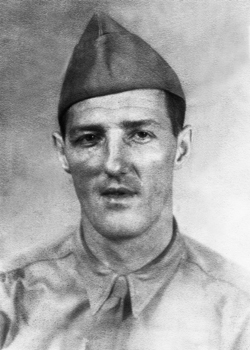 John Olchak
Biography: John Olchak was born January 24, 1913, in Lowber, Pennsylvania. He was the son of the late Andrew and Mary Susinka Olchak and a lifelong resident of Monessen, PA. While attending Monessen High School, he was a member of their 1930, WPIAL (Western Pennsylvania Interscholastic Athletic League) Champion Football team. He graduated in 1931, and went on to play tight-end for the semi-pro Monessen Ravens football team and centerfield for the local semi-pro Pirates.
He continued his education for 3 years at Duquesne University in Pittsburgh and was offered a spot on a semi-pro football team but didn't accept it since he could make more money working for the Pittsburgh Steel Company as a rigger.
On June 30, 1939, John married the former Mary Dzubinsky in Washington, PA. Mary was born in Pennsylvania and was the daughter of George Dzubinsky and Anna Mattis. The new couple would make their home in Monessen.
John joined the Army on April 28, 1943, at Greensburg, PA, and entered active service on May 6th. After his basic training, he was assigned to the Headquarters Company of the 661st Tank Destroyer Battalion and trained with them at various military facilities within the U.S., including Camps Hood, Swift and Bowie in Texas, Camp Claiborne, Louisiana and Camp Chaffee, Arkansas.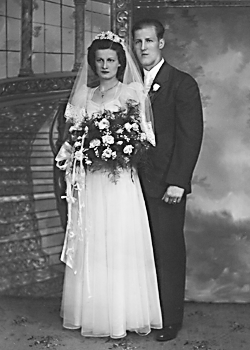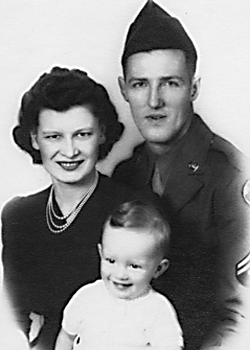 The unit was ordered to Camp Shanks, New York, and arrived on December 22, 1944, where they made final preparations for shipment overseas. They boarded a ship on January 9, 1945, and arrived at Le Havre, France, on the 21st. The unit was equipped with M18 tank destroyers and were quickly committed to battle at Rocherath-Krinkelt, Belgium, on February 16th. Fighting along the Siegfried Line near Helenthal, Germany, in March, they crossed the Rhine on March 27th and advanced across Germany to Leipzig by April 17th, where the men saw their last fighting.
The 661st received credit for the campaigns of Rhineland and Central Europe and John was honorably discharged November 23, 1945, at the rank of Technician 4th Grade.
After returning home, he and Mary raised their only child, Richard, who had been born in 1943, only a few months before John shipped out. John went back to work at the Pittsburgh Steel Company and rose to the position of foreman before retiring. He didn't talk much about the war and didn't tell any "how daddy won the war stories" as he described it. One story he did share was when he rigged up a boiler, which was attached to his truck so that he could have hot water throughout the war. His ingenuity allowed him to use hot water as payment for many other services and items he needed. His mechanical aptitude and desire to help others would be something he was know by his entire life.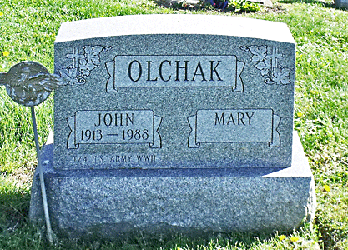 John was a member of the Veteran of Foreign Wars Post #1190 and the American Legion Post #28, both located in Monessen. He also attended many of the reunions for the 69th Infantry Division, enjoying the long drives to the different cities and states in one of the many new cars he purchased during his retirement.
John passed away on January 24, 1988, and was buried in the Saint Mary's Byzantine Cemetery in Monessen, PA. I want to thank John's grandson, John Robinson Olchak, for providing the information and photos from this tribute.