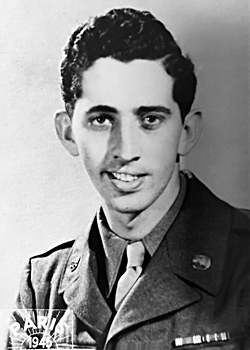 William J. O'Brien
Biography: William Joseph O'Brien, "Bill", was born on May 24, 1921, in Brooklyn, New York. He was the son of William O'Brien and Anna Duffy and graduated from La Salle Academy in Manhattan. After leaving school, he worked for White Weld & Company, which was a financial service and investment firm on Wall Street. He also did work for the U.S. Coast and Geodetic Survey in Maryland.
Service Time: Bill entered the service on December 28, at New York City and after his basic training was assigned to the Reconnaissance Company of the 610th Tank Destroyer Battalion. The unit had been activated on April 11, 1942, at Camp Barkley, Texas, as a towed anti-tank gun battalion. They trained within the U.S. at a number of military facilities, including Camp Bowie and Camp Hood, TX, Camp Forrest, Tennessee, at the Tennessee Maneuvers, and Camp Atterbury, Indiana, among others.
It was on January 8th that Bill qualified as an Expert with the M1, 30 caliber rifle. His discharge identifies that Bill served as a platoon leader for the unit.
They were finally sent to Fort Dix, New Jersey, for final preparations before deployment. Thinking they were headed overseas, they were sent to Camp Kilmer, New York, but they were soon headed back to Fort Dix. They were again sent to Camp Kilmer and this time, on June 3, 1944, they boarded the Dutch Liner, Nieuw Amsterdam and sailed for the United Kingdom. The 610th arrived at Greenock, Scotland, on June 11th and just over a month later, they boarded transports and landed at Utah Beach on the 31st of July. They were equipped with the 3″ towed anti-tank gun and committed to action on August 10th near Craon, France, participating in the elimination of the Falaise Pocket.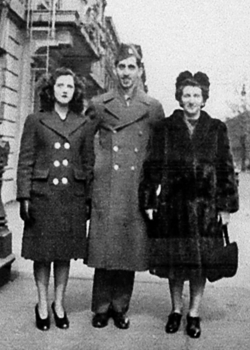 Racing east to the Moselle River by September, they converted to the self-propelled M36 tank destroyer in September–October and were the first unit to do so. The 610th helped clear Maginot Line fortifications in November and were then ordered to the Ardennes on December 21st.
Letter Home – December 31, 1944
They helped to eliminate the Bulge in January, 1945, and battled through the Siegfried Line in February near Brandscheid but were then transferred back south in March, crossing the Rhine River at Worms on March 29th. The unit raced through central and southern Germany in April and reached the vicinity of Munich by month's end. They received credit for campaigns in Northern France, Rhineland, the Ardennes and Central Europe. He was awarded the American Service Medal, EAME Medal, WWII Victory medal and the Good Conduct medal. Bill returned to the U.S. and left the service at the rank of Staff Sergeant on December 12th, at Fort Dix, NJ.
Shown in the photo above is Bill with his sister Mary on left and an unknown women on right.
Now back home in Brooklyn, he continued his education at Manhattan College in the Bronx, where in 1949, he received a Bachelor's degree in math and physics. He then went to St. John's University in Queens, NY, and in 1951, received his Masters Degree in the same fields. His training would lead to employment as an Aeronautical Engineering with NASA (National Aeronautics and Space Administration) and later as the head of the Math Department of the Levittown High School in Levittown, Long Island, NY.
In his spare time, he enjoyed golf and working on his classic 1964 Ford Mustang. After retiring, Bill moved to Ocala, Florida. He shared with his family the memory of discovering one of the Dachau sub-camps and the horrors therein.
Bill passed away on December 21, 2014, and was buried in the Queen of Peace Catholic Church Cemetery in Ocala, FL. I want to thank Bill's niece, Eileen, for providing the information and photo of Bill as well as a nice photo of the 1st Recon. Platoon that we believe Bill commanded.