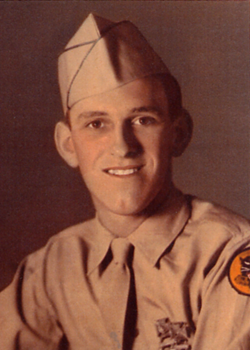 William B. Oettle
Biography: William B. Oettle, "Bill", was born on born March 28, 1926 in Hardin, Illinois. He is the son of Philip Wesley Oettle and Emily "Emma" Miller. He attended public schools in Hardin but left prior to graduating.
Service Time: Bill was inducted at Ft. Sheridan, IL. and completed 17 weeks of basic training at North Camp Hood, Texas. He qualified as a first class gunner and was sent to the front, arriving on Feb. 11, 1945. Bill was placed in the 805th Tank Destroyer Battalion, B Company. His unit spearheaded a drive under Lt. McClellan and he was in the first tank destroyer to cross the Po River on a ferry before the Sherman tanks could cross. He was also with the first tank destroyers into Verona, Italy, and was instrumental in destroying a German 88mm anti-tank gun, German tank, German 20mm anti-aircraft guns, plus much more too numerous to mention. Bill received the European-African-Middle-Eastern Theatre Ribbon with two Bronze Battle Stars for Apennines Mountains, Po Valley and Alp Mountains, Victory Medal, American Theatre Ribbon, Good Conduct Medal, Army of Occupation Medal-Germany, and was recommended for the Bronze Star Medal. He was discharged May 13, 1946, after attending cooking and baking school and graduated as 1st cook and baker. He left the service as a Private First Class.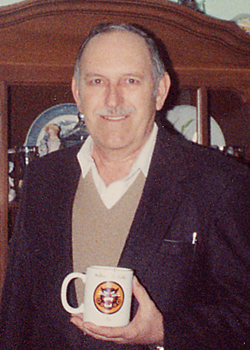 Bill went back to school after his return from the service, not only receiving his high school diploma but continuing his education for five more years of college, eventually becoming a school teacher. He taught all ages and various disciplines in Social Studies, Language Arts and Art. He taught for 28 years, 3 years in Red Bud, IL and 25 years in Waterloo, IL. On August 28, 1948, Bill met and married the former Edith Golden Jones, who was the daughter of Dolph and Mabel Perry Jones. The couple had six children, one girl, Rita and five boys, Lannie, Greg, Joe, Terry and Bryan.
Over the years, he did many other jobs including construction, surveying of the Illinois River and fruit picking. After he retired from teaching, Bill became a fruit grower. In his spare time, he enjoyed hunting and fishing and was a member, and life member, of a number of organizations, VFW, American Legion, NEA and ITA (Illinois Teacher Association). Not only was Bill a Life Member of the Tank Destroyer Society, he also held many administrative positions in the organization including serving 4 years as the President. He is also a charter member of the First Baptist Church of Prairie du Rocher in Illinois.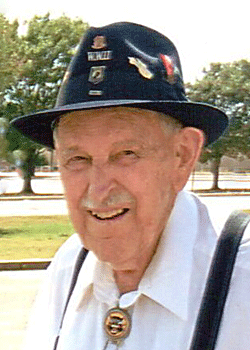 Bill passed away on November 5, 2017, and will be buried in the Ellis Grove Cemetery in Ellis Grove, Illinois.
I want to thank Bill for his service to this country and for providing the information and photos for this tribute. I also want to thank him for providing additional information about the 805th, the Tank Destroyer Society and for his support of this project.