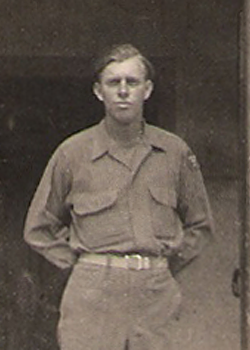 Willis C. O'Thuse
Biography: Willis Carl O'Thuse was born in June of 1910 in Carmel, New York. He was the son of Sylvester O'Thuse and Anna Belle Ferris and attended Carmel Central School, graduating in 1930. In the years prior to the war, Carl worked for ConEd as a lumberman.
In June of 1943, Carl married the former Shirley Paige. She was the daughter of Robert Paige and Hilda Stalder of New Jersey and the new couple made their residence in Carmel, NY.
Service Time: Carl entered the service and was assigned to Company C of the 629th Tank Destroyer Battalion where he would stay for the duration of the war. They landed at Omaha Beach and saw action in the Caumont sector and at Mortain in early August, then supported reduction of the Falaise Pocket. Next they supported operations in the Hürtgen Forest and against the Siegfried Line, followed by a shift to the Ardennes sector in December and later fighting to eliminate the Bulge in January 1945. The Rhine River was crossed into the Remagen bridgehead in March, 1945, and they participated in operations against the Ruhr Pocket.
When Carl returned to the U.S., he went back to what he knew best and worked as a lumberman. Carl and Shirley started a family and had two children, William born in 1946 and Elise in 1949. He later worked as a cost accountant for the Lloyd Lumber Co. and stayed in that position until 1984 at the age of 74. During those many years, when he wasn't at work or spending time with his family, he enjoyed fruit and vegetable gardening and also volunteered at the Carmel Fire Department.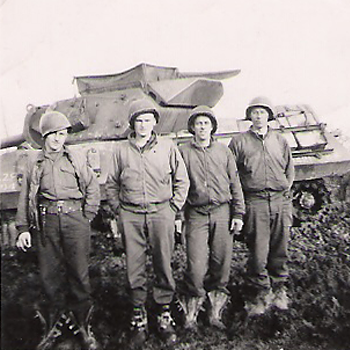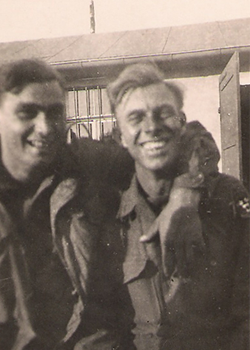 In the photo above left, you can see Carl standing third from the left with his crew. In the right photo, Carl is seen on the right with T4 Coontz while celebrating the 4th of July.

Carl passed away only one year after his retirement in August of 1985 and was buried in the Raymond Hill Cemetery in Carmel, NY.
I want to thank Carl's son, Bill, for providing this information and a number of other photos and information on the 629th.