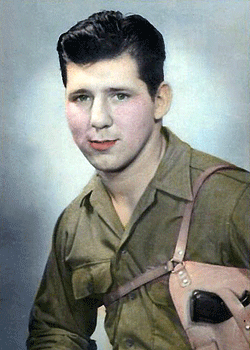 John G. Ott
Biography: John Gerald Ott was born on April 14, 1926, in Paterson, New Jersey. He is the son of George James Ott and Josephine Corti and attended East Side High School. At the age of 16, John asked his parents if he could join the service; with three older brothers already serving, his parents emphatically told him no! His oldest brother was a driver for a General still in the U.S., Joseph was in the Philippines with the Navy and James was in the Air Corps.
John graduated high school in the spring of 1944 and now that he was eighteen, went and enlisted. He had also worked as a Grey Cloth Printing Tender in his hometown of Paterson.

Service Time: On June 21, 1944, John entered military service at Fort Dix, NJ. He received basic training at Fort Hood, Texas, and shipped out to Europe on January 31, 1945. After arriving in England, he saw the bodies of men killed in action. The reality of the possibility that he could be one of those men started to sink in. He was assigned to 2nd Platoon of the Reconnaissance Company, 774th Tank Destroyer Battalion, who had shipped to the ETO back in June of 1944. One of his favorite memories was receiving coffee and donuts from the Red Cross. While in Germany, he saw a boy of about ten years of age playing with a bomb. He told the boy "You better not do that" and that "the bomb squad would be there soon to deal with it". In return for his concern, the boy gave John a German P-38 pistol as a gift.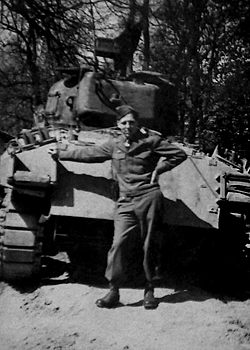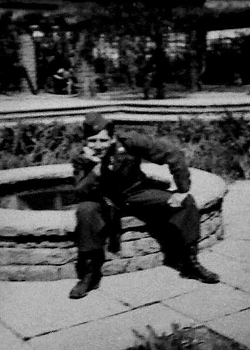 At the end of the war, John took on occupational duties and was stationed in Dusseldorf, Germany, at the Flak-Kaserne Resettlement Center for displaced persons. While there he helped provide for the thousands of people that arrived daily for food and shelter. While in Austria, John was assigned to guard a dam on the Inn River. A couple of men came by, trying to catch a deer. It was clear that these men were hungry but they had no gun to kill it. They asked if he could shoot one for them. He killed two deer with two shots and asked if they wanted a third. The men said no but also commented that they now knew why the Allies had won the war. During his time in Czechoslovakia, he remembers the wheat being harvested and the 155mm guns nick-named the "Long Tom" firing all night without stopping. He asked what was happening and he was told, they were softening up a town that was about twenty miles away. John forged a close friendship with William J. McKinley, who was from Philadelphia, Pennsylvania. The two met up after the war to reminisce about their experiences together in Recon. Company.

John received credit for both the Central Europe and Rhineland campaigns. He was awarded the EAME Medal, WWII Victory Medal and the Good Conduct Medal and left the service on June 6, 1946, at the rank of Pfc.
After returning to the U.S., John and his brothers founded the Veterans Taxi Service. At the same time, he did automotive repairs and sold used cars at the Prince Garage. They sold the taxi business about twenty years later and John started his own business, John G. Ott Excavating and Landscaping. On April 3, 1948, John married the former Evelyn Betsy Hamilton, originally of Hawthorne, NJ. You can see a photo of the happy couple below left.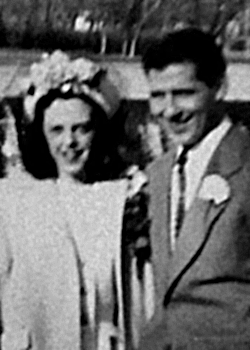 Evelyn is the daughter of Tunis Hamilton and Bessie Paulison. They had three children, Linda Jo born in 1951, JoAnn in 1954 and Jona Lyn in 1957. In 1999, after experiencing some health issues, the family moved from New Jersey to Roanoke, Virginia, to be close to two of his daughters. In his spare time, John enjoys fixing things and woodworking. At the time of this article, they have eleven grandchildren and six great grandchildren.

I want to thank John for his service to this country and his daughter, JoAnn, for providing the information and photos of her father.