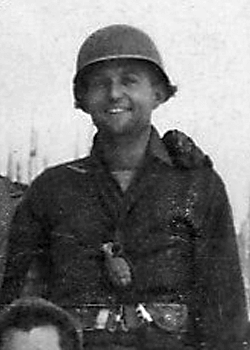 Bruce E. Pence
Biography: Bruce Elmer Pence was born on March 14, 1919, in Wolfe County, Kentucky. He was the fifth of ten children and the first son born to James Morton Pence (aka Mort J. Pence) and Lillie Francis Hollon. He attended local schools in Wolfe County through the grammar level and worked on the family's farm. Their main crop was tobacco.
It is thought that in October, 1940, Bruce married the former Elva Banks who was also born in Wolfe County and was the daughter of Samuel Henry Banks and Demaris Rose. The new couple made their home near Mary and Campton, Kentucky, and had two sons, one born in 1941, and a second in 1943.
Service Time: Bruce entered into active service on January 12, 1943, at Fort Thomas, KY. He was sent to Camp McCoy in Sparta, Wisconsin, for his basic training and during this time he qualified as an Expert with the Thompson Sub Machine Gun, a Marksman with the rifle and Sharpshooter with the carbine.
While at Camp McCoy, his wife and two sons traveled by train to join him in living quarters provided for service wives. At some point, Bruce was assigned to Company A of the 808th Tank Destroyer Battalion and trained with them in the U.S. They shipped out from the New York port on August 11, 1944, arriving in England on the 22nd.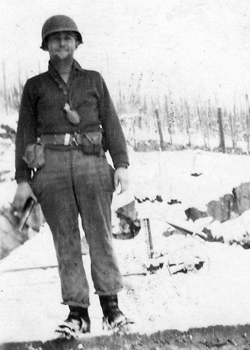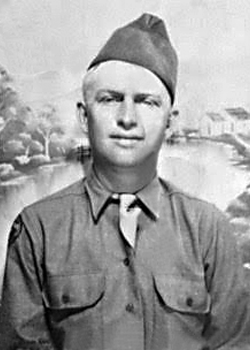 The 808th remained in England for just over a month, training and preparing for operations in France. They then loaded transports and shipped to France, landing at Utah Beach on September 19th. The unit entered the line east of the Moselle River six days later, where they remained until transferring to the Ardennes on December 21st. They protected the XII Corps flank through January, 1945, and then converted to the M36 tank destroyer in February.
They supported the drive to the Rhine in March and the river crossings south of Boppard, late in the month. The unit then joined Third Army's drive through Erfurt, Nürnberg, and finally turned south into Bavaria, advancing to Linz, Austria, in early May.
Bruce received the EAME Medal with three campaign stars representing the unit's three campaigns; Rhineland, Ardennes-Alsace and Central Europe. He also received a Bronze Star and the Good Conduct Medal. Bruce left the service at the rank of Private First Class.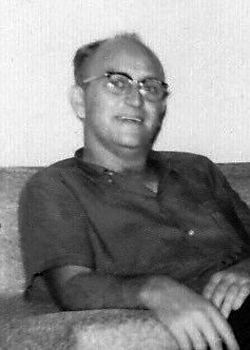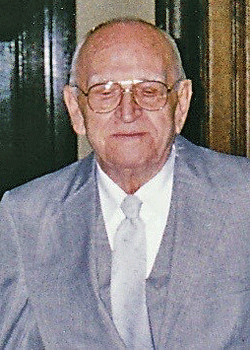 After returning to the U.S., Bruce, Elva and their boys moved to Dayton, Ohio, in 1947, and he began working for Specialty Papers. He remained there until his retirement and served as a Union Steward while at the company. In his spare time, he enjoyed vegetable gardening. Bruce passed away on March 9, 2002, and was buried in the Woodland Cemetery and Arboretum in Dayton, Ohio.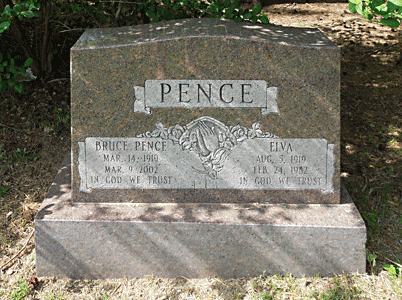 I want to thank Bruce's daughter-in-law, Marsha, for providing the information and photos for this tribute.