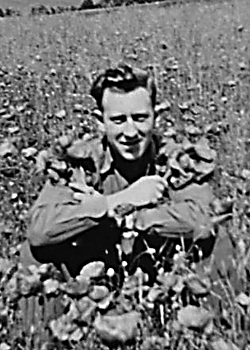 Oliver N. Peer, Jr.
Biography: Oliver Newton Peer Jr. was born on December 13, 1922, in Mauertown, Virginia. He was the son of Oliver Newton Peer Sr. and Maude Myrtle Spiker and attended Toms Brook High School, graduating in 1941. He went on to attend Shenandoah Business College. His enlistment record indicates that he was working as a stenographer and/or typist prior to the war.
Service Time: Oliver entered the service on March 10, 1943. He was assigned to the 638th Tank Destroyer Battalion and shipped out from the New York port on August 30, 1944, arriving at Cherbourg, France, on September 7th. They were equipped with M18 tank destroyers and entered the line near Prummern, Germany, on November 20th, supporting operations against the Siegfried Line.
The unit shifted to the Ardennes sector around Rochefort, Belgium, on December 22nd and fought to reduce the Bulge during January of 1945. They supported the Roer River crossing in February and crossed the Rhine River on April 1st. In their final push, they advanced across Germany and reached the Elbe River, near Wittenberg, on 24 April.
The 638th was credited with the campaigns of Northern France, Rhineland, Ardennes-Alsace and Central Europe. Oliver was awarded the Bronze Star for his actions.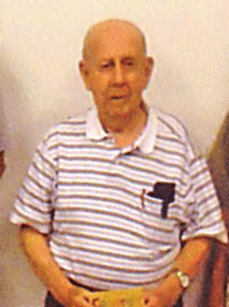 Now back in the U.S., Oliver married the former Ola MAe Fadely on August 10, 1945, at Harrisonburg, Virginia. Ola was born in Edinburg, VA, and was the daughter of Lloyd Fadely and Ada Didawick. The new couple made their home in Woodstock, VA, and had two children, Linda, born in 1947 and Carolyn in 1951. Oliver worked for Irvin Incorporated where he stayed for many years but his love of coins eventually moved from just a hobby and into a business when he opened the Woodstock Coin Shop.
Oliver was also a member and elder of the Edinburg Christian Church and a member of the Hamburg and St. Luke/Fairfield Ruritan Clubs for 55 years. He held official positions for over 17 years, starting in 1959, when he was elected as Vice-President. He went on to serve as President, Assistant Zone Governor and Governor before moving on to national positions on the Board of Directors and on their Budget and Finance Committees. Oliver was also a member of the Woodstock Town Council for 14 years.
Oliver passed away on January 29, 2013, and was buried in the Sunset View Memorial Gardens in Woodstock, VA. I want to thank Oliver's granddaughter, Sara, for providing the information and photos for this tribute. I also want to thank JeMM, who is a Find A Grave Volunteer, for the use of the grave marker photo.