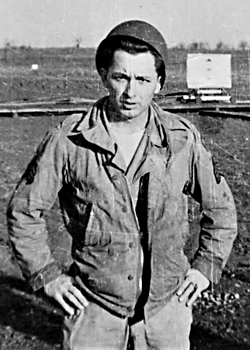 Benjamin J. Ptasznik
Biography: Benjamin J. Ptasznik was born on October 7, 1922, in Detroit, Michigan. He was the son of Ignatz Ptasnik and Pauline Zieba and attended schools in Detroit through the 10th grade. Benjamin worked as a drill press operator prior to the war. Benjamin's father, Ignatz, had married Pauline in Philadelphia after emigrating from Galicia, Poland. The family later moved to Detroit.
Service Time: Benjamin entered the service on January 22, 1943, at Fort Custer, Michigan. He was assigned to Company C of the 692nd Tank Destroyer Battalion and trained with them at a number of military facilities within the U.S. He particularly attended weapons school at Camp Hood, Texas in May of 1943. He served as a TD commander during his time with the unit. The 692nd had trained with self-propelled tank destroyers but had converted to towed 3″ guns, in March 1944.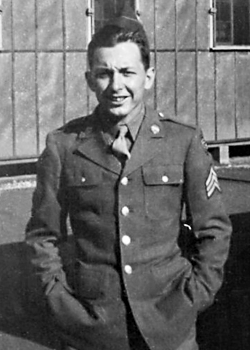 Benjamin shipped out with the unit from the New York port on September 12, 1944, and arrived at Cherbourg, France, on September 23rd. They entered the line near Wustwezel, Belgium, around October 28th and fought along the Siegfried Line in the vicinity of Stolberg beginning in November. They occupied defensive positions along the Roer River during the Battle of the Bulge and converted to the M36 tank destroyer in February 1945.
The unit supported the drive from the Roer to the Rhine River in late February and early March, and helped capture Cologne. After clearing more Siegfried Line fortifications, they crossed the Rhine at Worms on March 31st and raced across Germany in April and participated in the capture of Furth. By April 30th, they had advanced to Munich.
At some point, Benjamin was injured when his ankle was crushed. Although the details of his injuries are not clear, it is believed that his injuries were the result of an enemy gunshot, while he was climbing into his TD. He was treated in an overseas hospital but was flown back to the U.S., in an ATC (Air Transport Command) plane for continued treatment of the injury.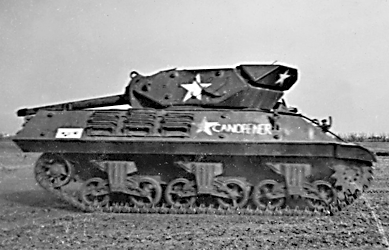 He would spend time at the Mayo General Hospital in Galesburg, Illinois and then Percy Jones Hospital in Battle Creek, Michigan. Benjamin was discharged from the service on October 4, 1945, while still at Percy Jones Hospital. He received credit for participation in the Rhineland campaign and received the EAME Medal and Good Conduct Medal. He held the rank of Sergeant.
The photo on left shows the M10 Tank Destroyer probably used by Benjamin and his crew during their training in the U.S. You can clearly she they named it "Canopener".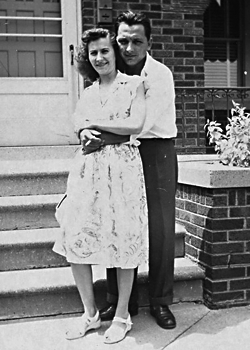 Now back in the states, Benjamin would marry Josephine and build their home in Dearborn, MI. The new couple would have four children, Kathleen, Michael, Patrick and Mary. In the late 40s, Benjamin worked as a bartender at the Senate Bar in Detroit. He later worked as a tool and die machinist. In his spare time, he enjoyed fishing, golfing and photography. He was an incredible handyman and was known as a do-it-yourself type of guy.
Benjamin passed away on April 4, 1982, and was buried in the St. Hedwigs Cemetery in Dearborn, MI. He also has three grandchildren, Benjamin, Kelsey and Sarah. I want to thank Benjamin's daughter Mary for providing the information and photos for this tribute.