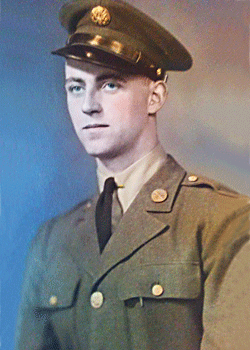 Edward R. Peters
Biography: Edward Royal Peters was born on May 7, 1920, in Brewer, Maine. He was the son of Ernest Earle Peters and Myrtle Louise McSorley and graduated from Brownville High School in Brownville, Maine.
Service Time: Edward entered the service at Fort Devens, Massachusetts, on February 2, 1942. After his initial basic training, he was assigned to Headquarters Company of the 605th Tank Destroyer Battalion. The unit shipped out from the New York port on December 10, 1944, and arrived at Clyde, Scotland, on December 16th.
Just over a month later, they landed at Le Havre, France, on January 26, 1945. They were equipped with towed 3″ guns and entered battle on February 16th near Tevern, Germany. The crossed the Roer River on February 24th and joined the drive to the Rhine and were deployed to the Remagen bridgehead on March 12th.
The unit was withdrawn on March 17th and sent to Belgium to support British armored forces, but almost immediately were attached to 17th Airborne Division. They crossed the Rhine beginning on March 25th at Xanten. The 605th participated in the reduction of the Ruhr Pocket in April and crossed the Elbe River on April 30th through May 1st at Bleckede. Edward left the service at the rank of Corporal.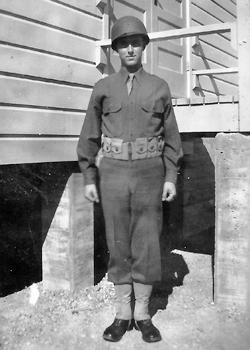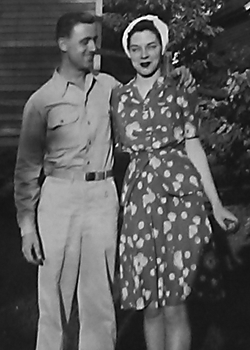 Edward returned to the U.S. and went to work as an electrician. On June 8, 1946, he married the former Mary Patricia "Pat" Stonhill, who was born in Port Huron, Michigan, and was the daughter of John Stonhill and Ethel Louise Plows. The couple made their home in Marysville, MI, and had four sons, John, born in 1949, Mark in 1951, Doug in 1954 and Robin in 1957. In his spare time, he enjoyed woodworking, traveling and spending time with his family. He was also a member of IBEW #58, the International Brotherhood of Electrical Workers, for 56 years and the Marysville United Methodist Church.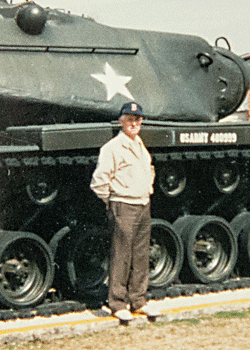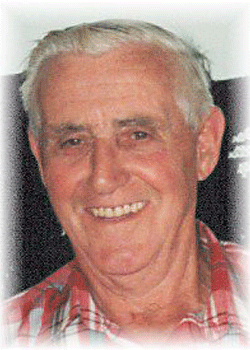 Edward passed away on November 24, 2003, and was buried in the Riverlawn Cemetery in Marysville. I want to thank Edward's son, Doug, for providing the information and photos for this tribute.