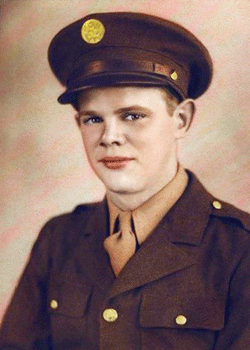 Edward M. Polzer
Biography: Edward Michael Polzer, "Eddie", was born on February 12, 1919, in Paterson, New Jersey. He was the son of Joseph Polzer and Mary Schmidt and spent his formative years in Totowa, attending Memorial Grammar School and later Central High School in Paterson through the 10th grade.
While in school he was very active in sports including football, baseball and basketball. He excelled and was a champion pitcher for local semipro leagues. Because he was so young, the teams would have someone drive him to games to make sure he was there.
His enlistment record indicates that he was working as a machinist prior to the war.
Service Time: Eddie entered the Army on December 21, 1942, at Newark, NJ. At the time, he was 23 years old. After his basic training, he was assigned to Headquarters Company of the 610th Tank Destroyer Battalion. At some point, Eddie qualified with the .30 Caliber Carbine.
The unit shipped out from the New York port on June 3, 1944 and arrived at Greenock, Scotland, on June 11th. Just over a month later, they boarded transports and landed at Utah Beach on the 31st of July. They were equipped with the 3″ towed anti-tank gun and committed to action on August 10th near Craon, France, participating in the elimination of the Falaise Pocket.
Racing east to the Moselle River by September, they converted to the M36 tank destroyer in September–October and were the first unit to do so. The unit helped clear the Maginot Line fortifications in November. They were ordered to the Ardennes on December 21st and . helped to eliminate the Bulge in January, 1945. They battled through the Siegfried Line in February near Brandscheid and then transferred back south in March.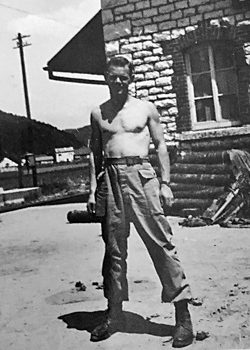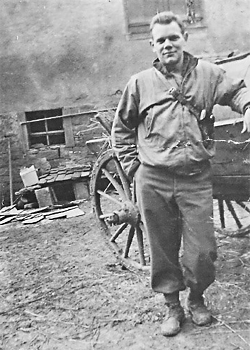 The 610th crossed the Rhine River at Worms on March 29th and raced through central and southern Germany in April, reaching the vicinity of Munich by month's end. They ended the war in Ingolstadt. The July 23, 1945 issue of the battalion newspaper, "The Hellcat" from Nurnberg, Germany, describes his pitching, "On Monday night, July 9th, Ed Polzer of Paterson, N.J., made his first mound appearance of the season for the Battalion team and pitched a one hitter to defeat the 3601 Q.M. (Quartermaster) Battalion softball team 6-1."
The unit received credit for campaigns in Northern France, the Ardennes, Rhineland and Central Europe. Eddie received the American Theater Ribbon, European Victory Medal, the African-Middle Eastern Ribbon and Good Conduct Medal.
After the war, Eddie became an Iron Worker for Union Local 483 in Paterson. He met Violet DeMauex, at a dance in Paterson, and they married on February 7, 1948. The couple was married for sixty-one years and raised four children, a son Mark, and three daughters, Mary Ann, Sue Ann, and Diann. He also had six grandchildren Mara, Shara, Kimberly, Jessica, Justin and Drew. Eddie retired in 1981.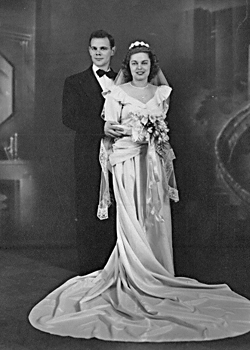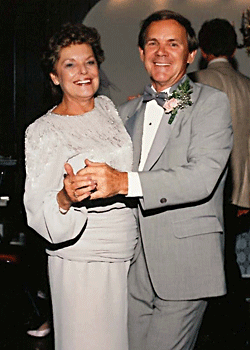 Throughout his life, Eddie loved sports, particularly the outdoors, and enjoyed hunting and fishing. His greatest interest was deer and pheasant hunting. He also pursued his love of deep sea fishing, having owned several boats. He even built his own small cabin cruiser with his dad.
"Uncle Ed", as he was known, took up an interest in race car driving. His nephew Jerry Wilson had a race car and Ed was an avid fan of Jerry. He also enjoyed skiing and golf. His favorite ski slope was Killington, in Vermont, where he made many trips with his family to enjoy the great outdoors. He skied and golfed into his 70's and his favorite football teams included the New York Giants and Notre Dame.
He was gifted with an outgoing personality and loved to entertain people around him with his wonderful sense of humor. He often shared personal stories of WWII that were filled with humor, rather than of the tragedies of the conflict. He also shared details of the war with his son-in-law Robert, whose interest in history has enabled much of the information about Eddies' experiences in the 610th to be preserved. As a result, his family still recounts those tales, keeping his memories alive for the future generations.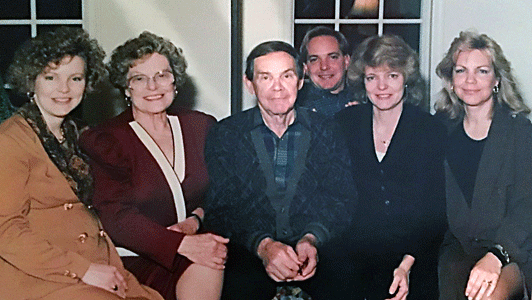 In 2007, the Polzer family suffered a terrible loss when Eddie's daughter Sue Ann passed away. She can be seen at the far right in the photo above. It was a time of great sadness for the whole family.
Eddie passed away on December 8, 2009, and was laid to rest in the Christ the King Cemetery, in Franklin Lakes, NJ. During the funeral services, he was honored by members of the military and his wife Violet was presented with a U.S. flag.
I want to thank Eddie's son-in-law, Robert, for providing the information and photos from this tribute.