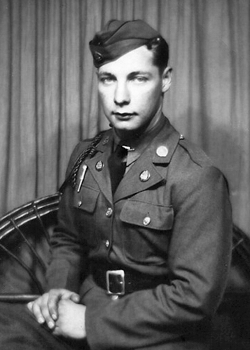 Ralph R. Porter
Biography: Ralph Russell Porter was born on February 27, 1920, in Walcott, New York. He is the son of Charles Porter and attended Walcott High School, graduating in 1940. He then worked briefly as a farm hand.
Service Time: Ralph entered the service on September 27, 1940, at Syracuse, NY. He is listed on the Christmas dinner menu from 1940, as a Private with Battery "D" of the First Provisional Anti-tank Battalion. This unit would be converted to the 601st Tank Destroyer Battalion on December 15, 1941.
Ralph was assigned to Company C, and after training within the U.S., they shipped out from the New York port on August 2, 1942, and arrived at Gourock, Scotland, on August 9th. They continued to train in the United Kingdom but the Reconnaissance Company was chosen to travel by ship, landing at Oran, Algeria, on November 8th, as part of Operation Torch. The rest of battalion arrived in December and fought in the Battle of Kasserine Pass in February, 1943, and at El Guettar, Tunisia, in March.
They were originally equipped with the M3 GMC Tank Destroyers but converted to the M10 at the end of the North Africa campaign. They participated in the invasion landings at Salerno, Italy, on September 9th and made their third D-day assault at Anzio on January 22, 1944, finally entering Rome in June. Ralph left the service at the rank of Corporal.
Now back in the U.S., he found work as a production line inspector for the Lennox Company. In November of 1946, Ralph married the former Hazel J. Ballard who was born in Syracuse, NY. They lived in Camillus, NY for many years before moving to Elbridge. The couple would have three children, Melanie, born in 1947, Priscilla in 1950, and Melissa in 1953.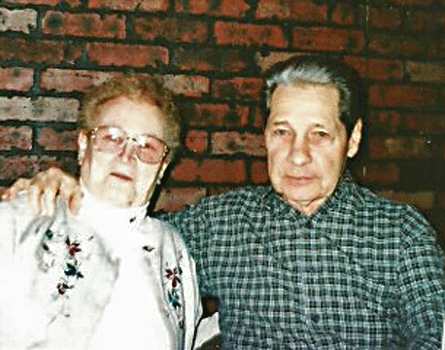 In 2017, he took part in the Honor flight program, travelling from Syracuse to the WWII Memorial in Washington D.C. In 2018, Ralph, along with all the other veterans in Eldridge, was honored with a dinner. I want to thank Ralph for his service to this country and wish him good health.
I also want to thank his son-in-law, James, for providing the materials and information for this tribute. James is also a veteran and was able to accompany Ralph to the veterans' dinner in Eldridge.