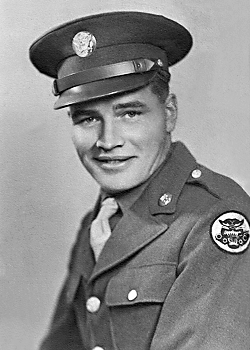 William R. Powell
Biography: William Rees Powell, "Bill", was born on August 17, 1918, in Conrad, Montana. He was the son of Robert Reese Powell and Anna Rose Tamcke and while still a small child, the family moved to Deer Lodge, MT. He attended local schools in Deer Lodge and graduated from Powell County High School in 1939.
He had worked on the family farm but after school he continued to do farm work as his occupation.
Service Time: Bill entered the service on June 18, 1942, at Missoula, MT, and was assigned to Company A of the 705th Tank Destroyer Battalion. The unit trained at a number of military facilities within the U.S. including Camp Cooke, California, Camp Hood, Texas, Camp Adair, Oregon, Fort Lewis, Washington, and the Desert Training Center, also in California, before moving to Camp Shanks, New York, for final preparations to ship overseas.
The unit shipped out from the New York port on April 18, 1944, aboard the Queen Elizabeth. They arrived in Gourock, Scotland, on the 27th. Three months later, they were boarding transports and landed at Utah Beach on July 18th equipped with M18 tank destroyers. They joined the Cobra breakout and swept through Brittany to Brest in late July and early August. The 705th helped clear the Crozon Peninsula into September and then moved across France, in October, to the Moselle River. Advancing to the German border at Kitzing in mid-November they shifted north to the Aachen area in early December.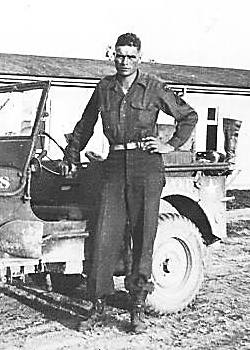 The unit moved to Bastogne, where their TD's participated in the famous defense of the town by the 101st Airborne Division. They supported the drive to the Rhine River in March, 1945, and crossed on March 29th at Oppenheim. The unit conducted a drive across Germany through Bayreuth in April, arriving in Neukirchen, Austria, by May 6th. The 705th received credit for campaigns in Normandy, Northern France, Rhineland, the Ardennes and Central Europe. they also received a Distinguished Unit Citation for their actions in Bastogne.
Bill returned to his home in Deer Lodge, and on July 22, 1950, he married the former Ruth Rosella Sundberg, who was born in Anaconda, MT, and was the daughter of Everett Sundberg and Anne Nelson. The new couple would have two children, a daughter, Rose, and a son William.
Bill worked as a farmer but later as a miner at the Anaconda Copper Mining Company. He was put is charge of the water pumping systems at the Berkeley Pit in Butte, MT, and would later be supervisor of the processing facility. After his retirement, Bill immediately built a carpentry shop for himself and began doing woodworking projects. He also enjoyed the outdoors and in his younger days, hunting and fishing. He also took over the cooking duties during his retirement, which became one of his passions.
Bill passed away on May 20, 1992, and was buried in the Hillcrest Cemetery in Deer Lodge, MT. I want to thank Bill's daughter, Rose, for providing the photos and information for this tribute. Thank you also to Find A Grave contributor, Joan Whitaker, for providing the grave marker photo.