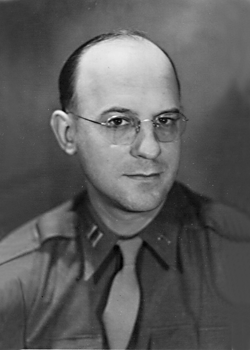 Cpt. Daniel L. Pfeilschifter
Biography: Daniel Leonard Pfeilschifter, "Father Dan" was born on September 6, 1909, in Cleveland, Cuyahoga County, Ohio. He was one of three sons and two daughters born to Aloysius Pfeilschifter and Elizabeth Raquette. Aloysius had emigrated from Bavaria and served as organist and music teacher for St. Joseph's church for over 30 years. The church was located in Cleveland's near west side.
It is known that Cpt. Pfeilschifter was serving as a Chaplain and Junior Class Religion Teacher at the Notre Dame Academy, Toledo, Ohio, in 1943.
One of his sisters was actually a twin named Eleanor, the other sister was named Colette. His older brother Boniface, "Father Bonny" was also a priest and had traveled to China with three other friars to minister in the area of Shantung, China. For the next fifteen years, until they were forced to leave China by the Japanese Army, he and the others ministered to the people of China in several different places. They were detained in a concentration camp for five months, until he and the others were released and allowed to return to the United States.

Service Time: We have very limited information on the life and service time of Father Dan but I was able to get in contact with the grandson of a family he had formed a friendship with during WWII. The family was Mit Philips' grandparents, Herman Philips and Marie-Anne Stas and their children, Armand (Mit's father), Joseph (called Jef) and Hilda. There was an older son Roger but he had passed in the beginning of the war, 1942, from tuberculosis. The family lived in Ketsingen, which is a village near Berg, a part of Tongeren in the Belgian province of Limburg.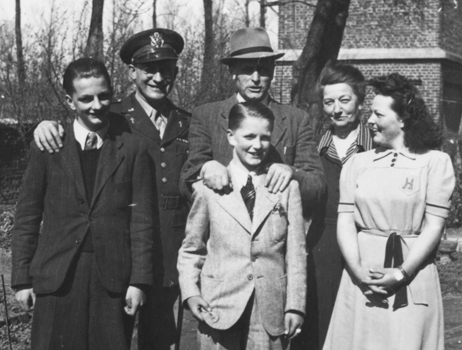 Marie-Anne was a teacher and a portion of their home was being used as a wound treatment room. There were meadows across the street from their home where the U.S. troops were billeted, in a large tent camp. Mit believed that Daniel may have been housed in the home of a local priest. The teachers and the priests were leaders in the community at that time and that is probably how the family had made contact with Daniel. The boys, Armand and Joseph, were very interested in the Jeeps that were driven by the servicemen, including Daniel's and he was happy to allow them to see and sit in the Jeep. The 6th TD Group was not stationed there very long but Daniel and the family had formed a close relationship. After the war, Marie-Anne and Jef had traveled by train to Cologne, Germany, to meet with Daniel.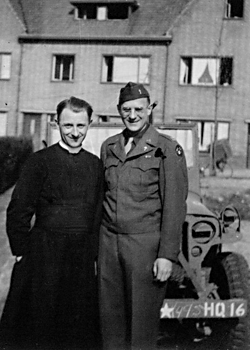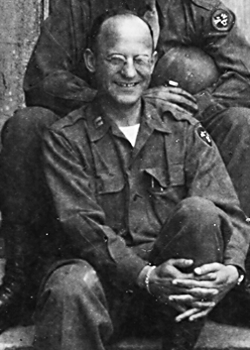 Daniel continued to serve as Chaplain as indicated by an After Action Report for May 1945. It lists Captain Pfeilschifter as a Chaplaindicated by another 6th TD veteran, John D. Morgan, who served with the unit beginning in May 1945, and was stationed at Dachau. He shared with his family that he was Daniel's driver for some time.
After the war, When Aloysius retired, the family moved to Our Lady of the Angels parish in Cleveland's west side. Father Dan would often stay in the monastery there and say mass at the church when visiting his parents.
Father Daniel passed away on May 22, 1996, and was buried in the Holy Cross and Saint Joseph Cemetery in Indianapolis, Marion County, Indiana. I want to thank Father Dan's great nephew, David Wiemels for providing information and to Mit Philips for providing both information and photos. That you also to Find A Grave contributor, Graham, for the use of the grave marker photo.