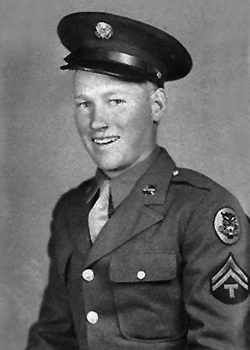 Everet M. Peabody
Biography: Everet Myron Peabody was born on July 5, 1922, in Ekalaka, Carter County, Montana. He was one of eight children born to Lawrence O. Peabody and Bonnie T. Brandley. His enlistment record indicates he attended grammar school and was working as a chauffeur or driver.
Service Time: Everet entered the Army on April 15, 1942 in Missoula, MT. At some point, he was assigned to the 773rd Tank Destroyer Battalion and eventually ended up in Company C, 1st Platoon, as a crew member on an M10 tank destroyer commanded by Sergeant Ernest C. Rabe. In early 1942, the unit moved to Camp Shelby, Mississippi, for four months of training followed by a move to Indio, Cal., and the Desert Training Center, California. After an eight month training period, including the Desert Maneuvers of September and October of 1942, a toughened 773rd departed for Camp Hood. Texas, the home of the Tank Destroyers. This course extended from December 1942 to April of 1943. Again on the move, this time to Camp Atterbury, Indiana, they later were ordered to Tennessee, in June, for their fourth large scale Army Maneuvers, this time with the Second Army. The unit returned to Camp Atterbury, and on the 15th of January 1944, they moved to New York. A short but busy stay at the P.O.E., Camp Shanks, NY, preceded embarkation on the British liner "Acquitania".
The 773rd arrived at Gourock, Scotland, on February 7, 1944. They later landed at Utah and Omaha beaches, Normandy, France, on August 8, seeing their first real action at Le Bourg St. Leonard, supporting the 90th Infantry Division, beginning August 17 during envelopment of the Falaise Pocket. During early fall, they advanced to the Moselle River sector via Paris.
On October 9, 1944, around 0650 in the morning, 1st platoon was supporting the 3rd Battalion, 315th Infantry Regiment, 79th Infantry Division, in the Foret de Parrot, Northeast of Luneville, France. They encountered heavy, enemy high explosive fire at 0715 and pulled back. At that time, their TD was hit and set afire, blowing Sgt. Rabe and T5 Peabody out of the vehicle and seriously wounding both men. The other three crew members were initially listed as Missing in Action (MIA). Many years later, all three were verified as having been Killed in Action (KIA).
We do not have any information as to the status of Everet following his wounding. Normally, seriously wounded personnel would be quickly moved to an evacuation hospital for treatment. He may have been treated and returned to the unit later, his injuries may have required an extended period of treatment or he may have been shipped back to the U.S. for treatment. Everet would have been awarded the EAME medal with credit for the campaigns of Northern France and Rhineland. He was also received the Purple Heart medal for his wounds. He left the service at the rank of Technician 5 (T5).
Everet returned to the U.S., moving to Miles City, MT and working for George Askins Well Drilling. On June 19, 1948, he married the former Anna M. Cain who was born in Loesch, MT. She was the daughter of Horace T. Cain and Bessie M. Williams. The couple made their home in Miles City and had two children, Myron L. and Mary A. In 1950, Everet went to work for Deluxe Motors, staying there until he retired due to illness. He passed away on August 14, 1977, and was buried in the Custer County Cemetery, Miles City, MT.