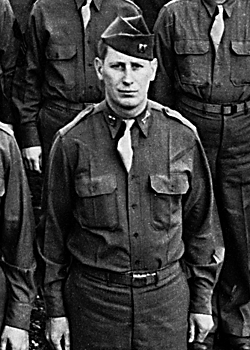 Harold J. Petrie
Biography: Harold John Petrie, "Pete", was born on October 20, 1917, in South River, New Jersey. He was the son of John Raphael Petrie and Elizabeth Hoffstetter and graduated from South River High School. He then continued his education at Rutgers University, receiving his B.S. Degree in Mathematics, with honors, in 1939. Pete then worked as an Insurance Agent.
Service Time: Pete entered the service on May 15, 1941, at Trenton, NJ. His leadership skills were quickly identified, leading him to be chosen for OCS (Officer Candidate School). He was commissioned as a 2nd Lieutenant but quickly rose to the rank of Captain and served as the Commander of Company A, 705th Tank Destroyer Battalion.
The unit trained within the U.S. and then shipped out from the New York port on April 18, 1944, arriving at Gourock, Scotland, on the 27th. After three months of training and additional preparations, they boarded transports and landed at Utah Beach, Normandy, France on July 18th. The 705th was equipped with M18 tank destroyers and joined the Cobra breakout and swept through Brittany to Brest in late July and early August. They were attached to Task Force A, led by the 1st Tank Destroyer Brigade. They helped clear the Crozon Peninsula into September.
They moved across France in October to the Moselle River and advanced to the German border at Kitzing in mid-November. Shifting north to the Aachen area in early December, they moved to Bastogne, where their TDs participated in the famous defense by the 101st Airborne Division. It was on December 20th that one of Cpt. Petrie's platoons was defending a bridge and he personally led a patrol to investigate small arms fire he heard south of their position. They were under mortar, machine gun and artillery fire throughout the night and into the next day. When the enemy attacked, Cpt. Petrie directed fire to conceal weaknesses in his own defenses and was able to critically slow the enemy's advance. It was during these actions on the 21st that Captain Harold J. Petrie encountered a land mine and received severe injuries to his leg. The enemy's siege on the area delayed their ability to get him to advanced medical facilities, which ultimately required his leg be amputated. Pete was shipped home to recuperate and began physical therapy at the Walter Reed Army Hospital. For his actions, Pete was awarded the Silver Star for gallantry in action against an armed enemy.
The 705th went on to support the drive to the Rhine River in March of 1945. They crossed the Rhine on the 29th at Oppenheim and conducted the drive across Germany through Bayreuth in April, arriving in Neukirchen, Austria, by May 6th. The unit received credit for campaigns in Normandy, Northern France, Rhineland, the Ardennes and Central Europe. They also received a Presidential Unit Citation for their defense of Bastogne. In addition to the Silver Star, Pete received the EAME, American Defense and American Campaign medals. He also received the Purple Heart for his injuries. He would leave the service at the rank of Major.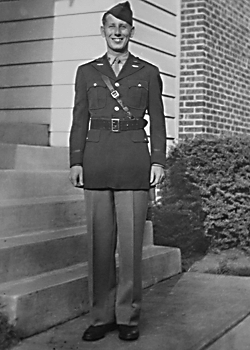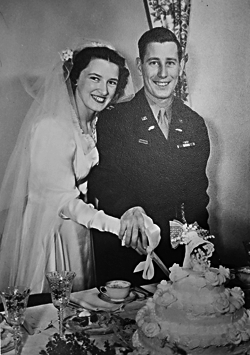 On May 19, 1945, Pete married the former Joan Barbara Sullivan, who was born in Missoula, Montana, and was the daughter of John Joseph Sullivan and Clara Elizabeth Hagen. Pete had met his new wife at the Yakima Firing Range while stationed there during the war. The couple would make their home in many cities in the Washington state. They had seven children, Cathie, born in 1946, John in 1947, Julie in 1949, Elizabeth in 1951, Joan in 1953, Mary in 1958 and Michael in 1959.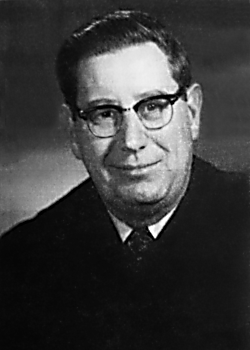 Pete's career would take a new path when he went back to school and received his law degree from Georgetown University. He then returned to Yakima, WA, and began practicing law at the age of 31. His first position was with the district attorney as a deputy prosecutor. He later formed a private practice with Perry Robinson. Pete was elected to the Washington House of Representatives in 1952 and continued to serve for three terms.
The family moved to the western part of the state and Pete went into public service full-time, first as a member of the Board of Industrial Insurance Appeals and then as Director of the Department of Labor and Industries in Olympia, WA. He had a distinguished career on the Court of Appeals and later as a Chief Judge. He had been one of the 12 original judges appointed to the court and partially retired in 1985, but he continued to serve and received an award as Judge of the Year for 1990. He finally left the court in 1995.
In his spare time, Pete enjoyed reading, crossword puzzles and gardening. He had learned to play the trombone as a child and on occasion could be persuaded to showcase his musical talents. He was a life member of both the Knights of Columbus and B.P.O.E. Elks. He had a strong Catholic faith and dearly loved his family. Pete passed away on May 26, 1999, and was buried in the Calvary Cemetery in Tacoma, WA.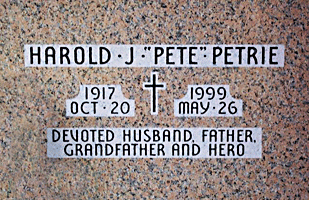 I want to thank Pete's son, Michael, for providing the photos and information for this tribute. I also want to thank Darla Mays for the use of the grave marker photo.