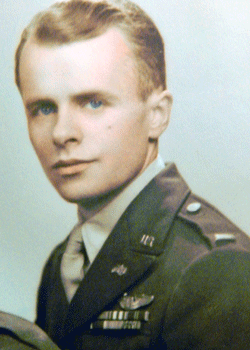 John J. Preneta
Biography: John Joseph Preneta "Johnny" was born on November 14, 1913 in Pawtucket, Rhode Island. He was the son of Wojciech Albert Preneta and Marya Litra, who had both immigrated from Poland.
Service Time: We know very little about Johnny's early service but at some point, he was transferred into the 704th Tank Destroyer battalion, which had been activated at Camp Pine in New York. They shipped out from the Boston port on February 27, 1944, and arrived in England on March 12th. While still training in England, they were the first unit converted to the new M18 Tank Destroyer in May.
The unit landed at Utah Beach on July 13th and participated in the Cobra breakout at the end of the month, advancing into Brittany. They raced east across France, passing north of Orleans, and crossed the Moselle River to Luneville in early September, remaining in the general area through October. It was on October 22nd that the 26th Infantry Division launched an attack toward the commune of Bezange-la-Petite and a wooded area in the vicinity of Moncourt, France. Both A and C Companies of the unit supported the attack with 1st Lt. Preneta in command of A Company. A platoon commanded by 2nd Lt. Charles Kollin had difficulty due to a minefield and heavy artillery fire. The following Distinguished Service Cross citation sums up the actions of Lt. Preneta during the incident: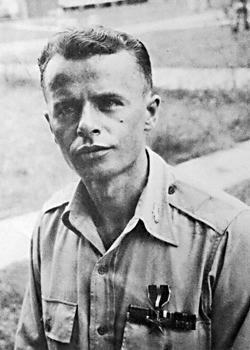 "The President of the United States of America, authorized by Act of Congress, July 9, 1918, takes pleasure in presenting the Distinguished Service Cross to First Lieutenant (Infantry) John J. Preneta (ASN: 0-1167165), United States Army, for extraordinary heroism in connection with military operations against an armed enemy while Commanding Company A, 704th Tank Destroyer Battalion, in action against enemy forces on or about 22 October 1944, near Bezange la Petite, France. When the company was halted by an enemy mine field and brought under heavy artillery fire, Lieutenant Preneta boldly made a reconnaissance of the ground, killed two snipers with his pistol and captured two others of the enemy in a pill box. The following day he again distinguished himself by personally leading a gun section through heavy artillery fire and directing their fire against the town from an exposed position until he was wounded and evacuated. First Lieutenant Preneta's conspicuous heroism, and his courageous, inspiring leadership and supreme devotion to duty exemplify the highest traditions of the military forces of the United States and reflect great credit upon himself, his unit, and the United States Army."
Both Lt. Preneta and Lt. Kollin would be awarded the DSC (Distinguished Service Cross) for their actions on that day. Both men was also wounded and were evacuated the next day with Captain Otwell D. Smith taking over command of A Company. Johnny returned to the U.S. and was discharged on December 10, 1945. Johnny also was awarded the Silver Star and the Purple Heart in recognition of the wounds he received. One other interesting item is that we believe Johnny was also a pilot as indicated by the Army Air Force Pilot's "Wings" insignia, shown above his ribbon bar, in the main photo.
All we know about his life after the war is that he married the former Julie Felica Godek, who was born in Taunton, Massachusetts and was the daughter of Frank Godek and Theophilla Mary Mosokivish. Johnny passed away on April 2, 1999, and was buried in the Notre Dame Cemetery in Pawtucket, RI. Thank you to Find A Grave contributor, Walter White, for the use of the grave marker image.