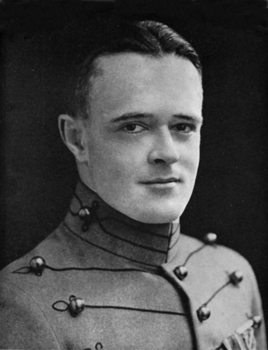 Branner Pace Purdue
Biography: Branner Pace Purdue was born on March 1, 1900, in Fayetteville, Arkansas, to Albert Homer Purdue and Ida Pace Purdue. He had one brother, Richard Howe Purdue, born November 7, 1901. Branner left home at about the age of 17 and headed for the Great Lakes where he worked on a ship.
Service Time: Branner enlisted in the Army and served in the 8th Infantry and 1st Engineer Regiments before entering West Point in 1921. He graduated in 1925 and was stationed at Ft. Benning, Georgia, for the Advanced Officer Training course. He met Carolyn Rhodes Sills, the daughter of Col. William Gray Sills. Colonel Sills had died in France as a result of wounds in received in WWI. The two were married in 1929 at Ft. Collins, Colorado. The couple moved to Washington State with Branner's first assignment after the wedding. They then moved on to Schofield Barracks, Oahu, Hawaii, and had their first child, William Pace Purdue, born April 27, 1932. From there it was onto Ft. Warren, Wyoming, where the Purdues had their second child, a daughter, Lynsey on Aug, 4, 1935. At 16 months old, Lynsey became ill with pneumonia and was frequently sick even after her recovery. The family moved back to Schofield Barracks believing the warmer climate might help her condition. They came back to the U.S. in 1940, ending up at a base in Kalamazoo, Michigan. In late 1941, when war was declared by the U.S., that the Purdues moved to Temple, Texas. Branner was sent to Camp Hood where he began working with the Armored and Tank Destroyer units stationed there. He was chosen to travel to Egypt and observe the British 8th Army. The now Col. Branner, became commander of the newly formed 6thTank Destroyer Group (Sept 1942) which was to oversee and direct the actions of numerous Tank Destroyer Battalions. After the poor showing of our tank destroyer forces in the Battle of Kasserine Pass in Africa, Branner was placed in charge of the Tank Destroyer Tactics Center at Camp Hood. Capt. Jac O. Ullman had been his S-3 (Operations Officer) at the 6thand was transferred with Branner for this new assignment. Col. Logan Berry, who had been in the Tactics Center, took Branner's position in the 6th TD Group.
In the summer of 1944, the family joined Branner at Ft. Leonard Wood, Missouri, for about a month and then went out to California for about the same length of time. Branner shipped out to England and the family returned to Texas briefly before moving to Boulder, CO, while he was overseas. During his time in Europe, Branner served under Major General Leland Hobb's in the 30th Infantry Division and was later the Commander of 120th Infantry Regiment.
My research led me to an article by Hal Boyle in the Milwaukee Journal – Jan. 20, 1945, entitled, "Hardship, Suffering, Cold Makes Ardennes Another Valley Forge for Frostbitten Yanks". In this article, it identifies that Col. Branner Purdue, who was a Regimental Commander in the 30th Infantry Division at the time, had designed a special bootlet made out of three layers of waste blanket. The men would wear this bootlet under their overshoes at night to cut down on trench-foot, which was wide spread at the time. Obviously Branner had his men's health and welfare in mind as well as the overall effectiveness of his unit.
Another search identified that Col. Purdue was one of a select group of officers to receive the "Order of Alexander Nevsky" award from the Soviet Government. I have a picture of the award shown at the end of the article.
He returned to the U.S. late in 1945, at which time he was assigned to ROTC duty at the University of Arkansas. He was in Fayetteville, AR, for one year and then went to Washington, D.C, where he attended the National War College. Late in the summer of 1947, the family moved to Ft. Monroe, Virginia, and lived there for two years. It was during this time that Branner and his son, William, worked on one of his passions, woodworking. Their largest project was a small boat, which was eventually given to William. Branner loved the outdoors and loved to hunt and fish. During the summer of 1949, the family moved to Elmendorf Air Force Base in Alaska, then onto Ft. Benning, Georgia, in the summer of 1951. I t was there that he was promoted to Brigadier General. They then moved to Ft. Leonard Wood, Missouri. I don't know the date but Branner was appointed Chief of the Troop Training Division for Army Ground Forces in the U.S. during some point of his career.
The following spring and summer of 1952, Branner was sick off and on, which was unusual for him. He still managed to speak at a high school graduation on May 11th. He was later diagnosed with cancer and went to Walter Reed Hospital in Washington, D.C. for treatment. His wife moved to Washington and stayed with friends there to be close to him. The cancer was already in an advanced stage and Branner passed away on Thanksgiving Day of that same year, Thursday, Nov. 27, 1952. He was buried at West Point.
Lynsey went to Stephens College in Columbia, MO, while William attended West Point and graduated in 1954. Lynsey married a West Point classmate of William's. After graduation, William took the Basic Infantry Course and then moved onto his first assignment at Ft. Campbell, Kentucky. He took the project boat he and his father had built with him. Unfortunately, William died in 1956 from complications related to lung cancer. He was also buried at West Point.
Around 1959, Branner's widow, Carolyn, married James G. Christiansen, a retired Army Major General. They moved to Air Force Village in San Antonio, TX, a military retirement community. James died there in 1983 and Carolyn died in January of 1992. Carolyn was buried at West Point also.
I want to thank Lynsey Purdue Klein for her assistance with much of this information.