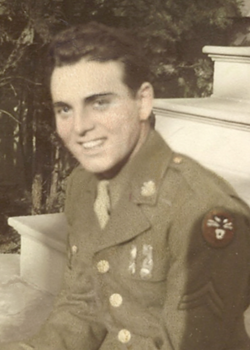 Rudolph R. Pisani
Biography: Rudolph "Rudy" R. Pisani was born on August 19, 1922, in Bronx, New York. His parents were Joseph and Sylvia Guidotti Pisani. He attended PS 34 and Theodore Roosevelt High School, both in the Bronx. Rudy graduated and entered college in New York but quit after two years to work and help make ends meet at home. It was his hope to have a career in journalism after finishing college.
Service Time: Rudy entered the service and was assigned to the 610th Tank Destroyer Battalion. The photo to the left was taken at his parent's home in Emerson, New Jersey, around Thanksgiving, 1943. He was on leave visiting his family and fiancee, Wanda Cattaneo, who was also from the Bronx.
His unit shipped from New York on June 3, 1944, landing briefly in England and then onto the Normandy shores of France in late July of 1944. They entered combat near Craon, France, in August and participated in the elimination of the Falaise Pocket. From there they raced east to the Moselle River by September. On September 20, 1944, Rudy made the ultimate sacrifice for his country. Rudy's company had launched into the river from the village of Dieulouard and about mid-way during the crossing, Rudy was shot and killed. His body was retrieved from the river and his effects, including his wristwatch and rosary beads, were returned to his family.
Rudy's oldest brother, Raymond, who was stationed in Australia as part of the Army Dental Corps, was notified by a letter from his wife. It was sent via the USO and it was requested that a Catholic Priest be nearby when the letter was delivered to him. The news finally reached him in November. Upon learning the news of Rudy's death, Wanda returned her engagement ring to Rudy's parents and left her handmade scrapbook with them. It was filled with mementos of her relationship with Rudy. Rudy was posthumously awarded the Purple Heart and his body sent home to be buried in the Maryrest Cemetery in Mahwah, NJ.
When Wanda passed away, the Pisanis returned the scrapbook to her family and at the request of Wanda's family, her remains were interred in Rudy's gravesite in April of 2007.
Along with Raymond and Rudy, their other brother Giulio (Julius) also served throughout the war in the Coast Guard. I want to thank the Pisani family for their service and sacrifices for this country. A special thank you to Rudy's nephew, Steven Pisani, for providing the above information and photo.