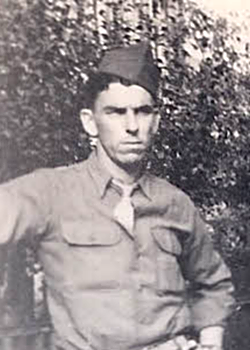 John C. Putnam
Biography: John Carroll Putnam was born on February 25, 1925, in Marlboro, Massachusetts. He was the son of John Putnam and Katherine "Kit" Egan and attended Hildreth School and later, Marlboro High School. He started working at 15, driving a truck on a local farm and then, in Maynard, MA, at an ammunition depot.
Service Time: John entered the service on September 21, 1943, at Fort Devens, MA. He traveled to Camp Chaffee, Arkansas, and was assigned to Company A of the 16th Tank Battalion (see photo link below), which trained with the 16th Armored Division. In an effort to not miss the war, John and a friend volunteered for overseas duty and were quickly sent to New York for the trip to Europe. John recalls the 14 day voyage from the New York port of embarkation to Liverpool, England, and then on a train to Portsmouth. Soon another ship would drop him off on Omaha beach and then it was on to several replacement depots in France before finally being a assigned to Company C of the 630th Tank Destroyer Battalion. The 630th saw action in the Hurtgen Forrest, Malmedy, Alsace-Lorraine, Colmar, Bordeax and the Ruhr Pocket. John shipped back to New York and then to Fort Devens, MA, where he was discharged at age 21.
The following document is a portion of the memoirs of the life of John Putnam covering his time in military service and gives a much more detailed view of his experiences.
Co. A, 16th Tank Battalion – This photo was taken on June 14, 1944, at Camp Chaffee, Arkansas, and shows Company A of the 16th Tank Battalion with which John trained. John is shown in the back row to the immediate left of the flag. Obviously this is not a tank destroyer unit but many of the camps and training methods were the same. This link contains a 2 page document which includes the front and back of the photo. The back includes the last names of enlisted personnel, their rank and home state. The officers and NCO's are listed on the front of the photo and I have written them here for convenience: Sgt. J.L. Broussard, 2nd Lt. H. Karr, 2nd Lt. G.W. Bateman, 1st Lt. G.W. Casper, 1st Lt. R.R. Joseph and Capt. L.G. Webb, Commanding.
Small Group Photo – Probably a group from the 16th Tank Battalion while still in the U.S. John Putnam is shown in the first row, fourth from the left. The names of all the men are listed on page 2 of the document.
After leaving the service, John used the G.I. Bill to attend Boston University, graduating in 1951. He married the former Virginia Burrows on September 1, 1951, She was the daughter of Frank H. Burrows and Anna Coleman of Hartford CT. They had four children, Eileen born in 1953, David in 1954, Nancy in 1957 and Thomas in 1962. John worked for a number of businesses, including Plymouth Motors in Detroit, Michigan, Ford Motors in Natick, MA, Continental Baking and starting in 1956, Blue Cross Blue Shield of Worcester, MA, where he worked for over 30 years.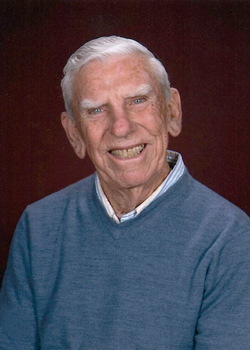 In his spare time, he enjoyed ice skating, riding waves, walking on the beach, canoeing, tennis, cross country skiing and singing! He was also a member of Knights of Columbus, the Food Pantry at St. Mary's Church in Wells, Maine, and in the 50's, he was a member of a barbershop quartet. He made his residence in Wells, Maine.
John passed away on March 5, 2011. I want to thank John's daughter, Eileen, for providing this information and photos used in this tribute.