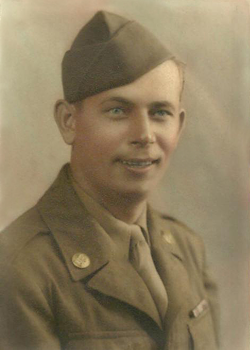 Frank S. Pyrcz

Biography: Frank S. Pyrcz was born on October 24, 1912, in Thompsonville, Conneticut, to Josef Pyrcz and Sophia Rusin. He and his family moved back to Poland when Frank was only two years old. In Poland, he attended school until he was 15 when he moved back to Thompsonville alone to live with relatives. He then started a job as a weaver for the Bigelow Sanford Carpet Company.
Service Time: Frank entered the service on December 22, 1942, at Hartford, CT, and was assigned to the Reconnaissance Company of the 807th Tank Destroyer Battalion. He went on to serve with them throughout the war, including while they were attached to the 95th Infantry Division and were in the spearhead of the attack on the fortress city of Metz. The battalion shares the moniker with the 95th as the "Iron Men of Metz". They later attacked toward Saarlautern and battled the German Nordwind offensive in January 1945. The unit shifted north for the offensive to the Rhine River and defended the Rhine bridges in April. They converted to M18's just in time to join the drive through Bavaria late in the month and reached the vicinity of Salzburg, Austria.
Frank's childhood home in Poland was near the Russian border and, in addition to speaking English, Frank was fluent in Polish and also spoke some Russian and German. His language skills were very helpful when dealing with displaced persons. At the time of his discharge, Frank was a Sergeant.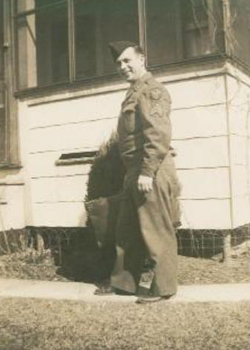 When Frank returned to the U.S., he went back to the Bigelow Sanford Carpet Mill and worked as a Jacquard weaver. On October 5, 1946, he married the former Stella Czech. She was the daughter of Anthony Czech and Josephine Firlej, also of Thompsonville. Together the couple had one son, Thomas.
In addition to his job and family, Frank enjoyed bowling and was a member of the American Legion Post #154 and the Polish National Home Association. Frank passed away on February 15, 1981.
I want to thank his son, Thomas, for providing this information and photos of his father.