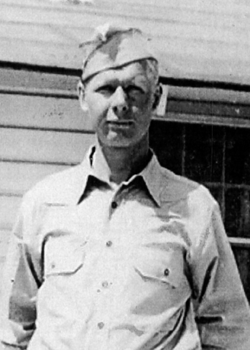 Henry H. Probst
Biography: Henry H. "Hank" Probst was born on May 5, 1919 in Sterling, Nebraska. Hank was the son of Otto Probst and Emman Grundman and attended Sterling High School. He went on to attend the University of Nebraska for business and later found work at a sugar beet factory in western Nebraska.

Service Time: Hank entered the service on February 25, 1942, and was assigned to the Reconnaissance Company of the 636th Tank Destroyer Battalion. The unit saw action throughout Europe and Hank received credit for five campaigns including, Naples – Foggia, Rome – Arno, Northern France, Southern France, Rhineland and Central Europe.
One particular mission involved Hank and members of his unit being sent to oversee the surrender of Reichsmarschall Hermann Goering. The mission took them behind enemy lines and into Fischhorn Castle, located in Austria. Hank and Lester Leggett, also of Recon., were on hand when Goering surrendered to 36th Infantry Division Commander, Brig. Gen. Robert I. Stack. It was a long night between May 7th and 8th of 1945, with American, SS and Luftwaffe soldiers at the castle, all armed and anxious, but all went smoothly. He earned a Bronze Star and the Good Conduct Medal as well as the EAME Theater Medal with Arrowhead device denoting the unit's amphibious assault during the Southern France campaign. Although offered a field promotion to Lieutenant, he choose to leave the service on September 25, 1945. He had reached the rank of Staff Sergeant.
Mission to Capture Hermann Goering– Lester Leggett interview with David Lesjak of World War II Magazine (June 12, 2006). The interview mentions Probst who was acting First Sergeant and mentions that he was the first of the group to enter the castle.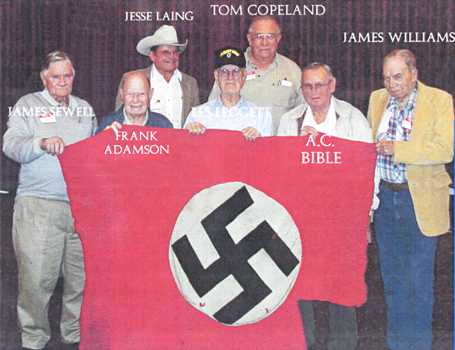 The photo to the left shows a Nazi flag taken during the 36th Infantry Division's invasion of Salerno, Italy. The 636th TD Bn. took part in that action and this flag was brought home by Hank. The flag had been in the possession of the Probst family and used for the photo. The men shown are fellow members of the 636th.
When Hank returned to the U.S., he worked for Firestone initially at South Sioux City, NE and then in Falls City before going into farming in 1952. On Sept. 11, 1949, he married the former Verla May Kupke who was the daughter of Carl Kupke and Sarah Lau of Murdock, NE. Verla was born in Greenwood. The couple had one son, Steven, and put down roots in Cook, NE. Hank was a member of the VFW and Grace Lutheran Church in Cook.

Hank passed away on June 2, 2000, and was buried in Cook, NE. At the time of his death, he had three grandchildren, Jennifer, Jill and Joseph from his son Steve and his wife Diane. I want to thank Steve for providing this information and photos of his father.